Jeudi soir, je suis allé voir Natchez et Molly Hatchet au Trabendo, en compagnie d'Olivier et d'Igor, qui est le frontman du groupe de métal français Abinaya.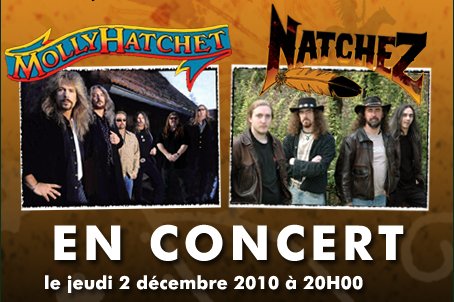 J'arrive pile à l'heure pour retrouver les copains. La salle est à moitié pleine seulement lorsque le concert commence.
Première partie : Natchez
Le groupe Natchez est né 1987 sur l'initiative des frères Thierry et Emmanuel Aeschbach, influencés par le classic rock et la veine southern rock des années 70. Le groupe se compose de Thierry Aeschbach (chants & guitares), Emmanuel Aeschbach (guitares & chœurs), André Dufour (basse) et Benjamin Proy (Batterie).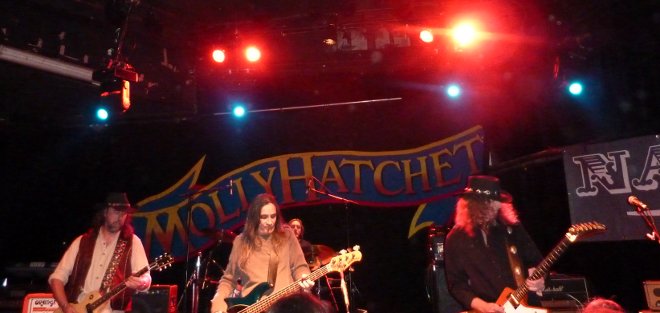 Pour la petite histoire, le nom est emprunté aux Natchez, un peuple amérindien qui vivait dans la région de l'actuelle ville de Natchez dans le Mississippi. Vers 1730, après plusieurs guerres avec les Français, les Natchez furent vaincus et dispersés. La plupart des survivants furent soit réduits à l'esclavage par les français ou trouvèrent refuge parmi d'autres tribus, comme les Chickasaw, les Creeks et les Cherokees. De nos jours, la plupart de leurs descendants se trouvent en Oklahoma, parmi les membres des nations Cherokee et Creek.
Sur scène, Natchez assure vraiment et leur son est vraiment bien dosé. C'est varié et on peut clairement entendre les influences comme par exemple un morceau de solo de Paul Kossof (FREE) à la fin du premier morceau joué sur scène. Et pourtant, ça marche très bien, le public a été emballé.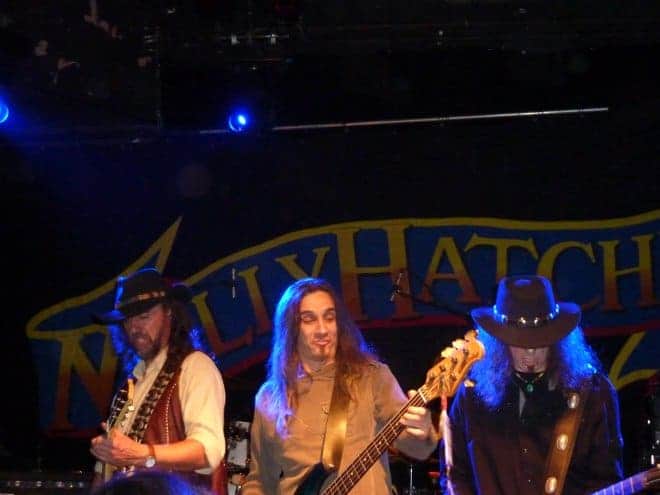 Ils m'ont rappelé Boxer et surtout Christophe Marquilly de Stocks (que je vous recommande) au niveau du chant.
Molly Hatchet
Changement de set rapide. Les lumières se rallument et je me rends compte que le Trabendo est quasiment plein : les gens sont arrivés au fur et à mesure pendant la première partie apparemment. La batterie n'est pas changée : le batteur de Molly Hatchet jouera sur la batterie de Natchez, ce qui n'est pas banal.
Les lumières s'éteignent. Une musique de fond est lancée, un peu comme dans les concerts de prog, sauf que ça sonne sudiste évidemment. Pendant 5 bonnes minutes, rien ne bouge mis à part un roadie qui finit de scotcher les setlists au sol.
Arrivée de Molly Hatchet sur scène : Bobby Ingram (guitares (lead, slide) et chœurs), Phil McCormack (chant, harmonica), Dave Hlubek (guitares (lead, slide) et chœurs), John Galvin (piano, claviers et choeurs), Tim Lindsey (basse et chœurs), Shawn Beamer (batterie) venus de Jacksonville, Florida.
J'avoue que j'ai bien ri en les voyant : ils ont tous une bedaine énorme de 20-30 kg, c'est tout simplement hallucinant. Bobby Ingram possède une tignasse teintée blond platine qui rivalise avec les hair bands des années 80, il ne lui manque que le bandeau fluo !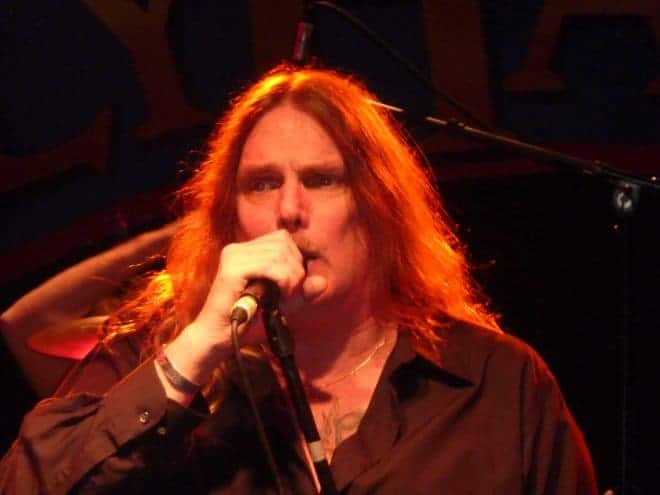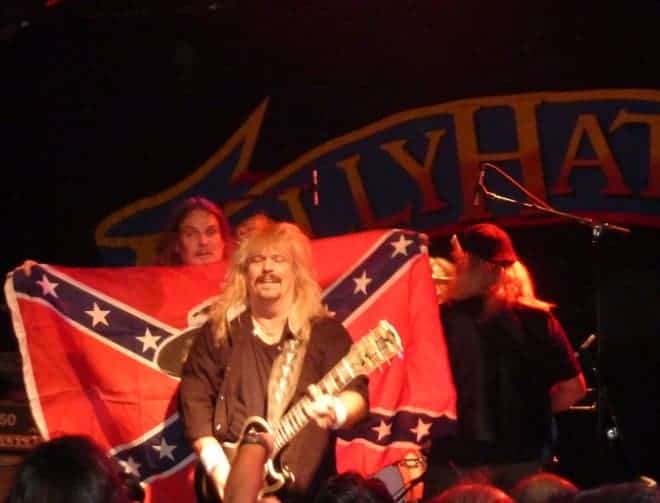 Gros problème au niveau du son pour moi : c'était beaucoup trop fort, on entendait trop la basse et pas assez la guitare lead. Très décevant à ce niveau là, cela faisait plutôt bouillie.
Par contre au niveau scénique, que du bon : Phil McCormack se donne à fond, tellement d'ailleurs que lorsqu'il s'est tenu le cœur à plusieurs reprises, essoufflé, j'ai eu un peu peur pour lui. Bobby Ingram est le showman du groupe : poses lascives, rock'n'roll, guitar hero, shredder, agitant le drapeau sudiste… je crois qu'il nous a tout fait ! Dave Hlubek, force tranquille, fume cigarette sur cigarette. Il me fait un peu penser à l'acteur John Goodman.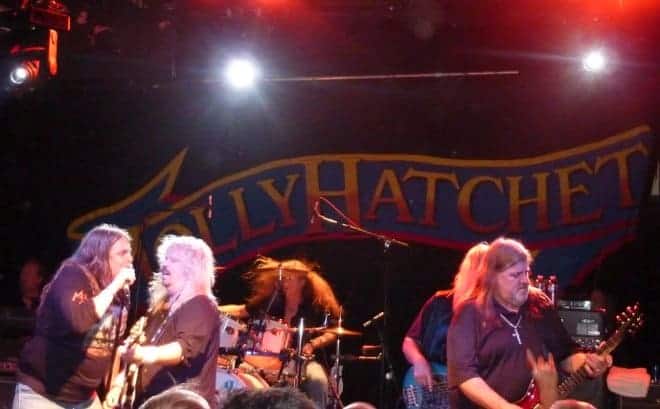 Il y eu un hommage à Ronnie James Dio, mort un peu plus tôt cette année, et une reprise de Free Bird qui a ravi tout le monde je pense !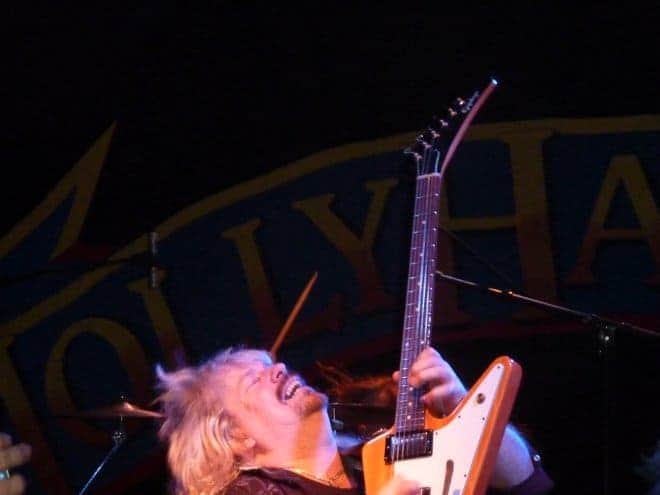 On a pris des photos avec Phil McCormack à la fin du concert : il avait l'air méga-chargé et les yeux brillants et nous a demandé si on savait où on pouvait trouver de la coke ! Sorry buddy, can't help you there… Si ça, c'est pas rock'n'roll !!!
Setlist
Whiskey man
Bounty hunter
Gator country
Been to heaven been to hell
Fall of the peacemakers
Justice
Beatin' the odds
Gonna live til' I die
Jukin' city
Dreams (I'll never see) [Allman Brothers Band cover]

Encore

Free bird (Lynyrd Skynyrd cover)
Flirtin' with disaster
Natchez et Molly Hatchet sont super sympas : ils sont venus discuter dans la salle après le concert et j'en ai profité pour les féliciter et me faire dédicacer le billet :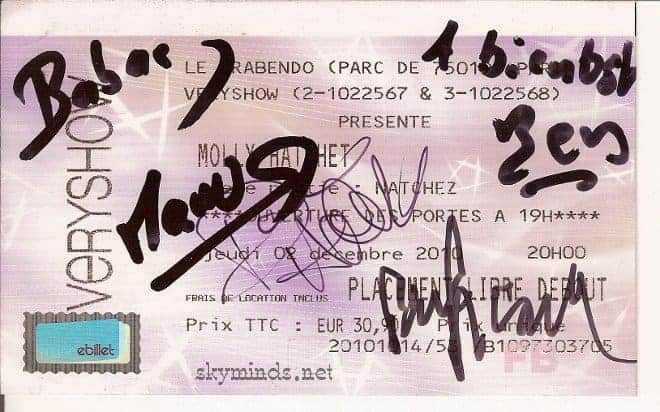 Au permanent noir ont signé Natchez : Thierry, Manu et Ben. Au centre, Dave Hlubek (qui insistait pour qu'on "Buy the fucking t-shirt!") et en bas Phil McCormack. Je n'ai pas vu les autres membres.
Bon concert, bonne ambiance. Tout cela m'a donné envie de m'acheter une paire de santiags tiens. En janvier, je fais le tour des boutiques parisiennes, si vous avez des recommandations, je suis preneur :)
Articles en rapport: