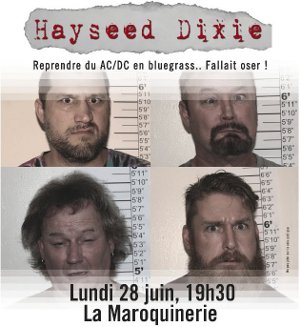 Lundi soir, je suis allé voir Hayseed Dixie en concert à la Maroquinerie à Paris avec Olivier et Gilles.
Hayseed Dixie, c'est un groupe de rock/country à la sauce bluegrass : ils ont adopté le look des paysans péquenots (salopette courte en jeans à la Tom Sawyer) et boivent leurs bières plus vite que leur ombre.
C'est assez drôle d'ailleurs : sur scène ils ont une grosse poubelle remplie de glace avec une cinquantaine de cannettes et ils vont se servir après chaque chanson. Regardez les photos, il y a même un porte bouteille intégré au pied de micro… ambiance très bon enfant !
Le nom du groupe vient du fait qu'ils ont sorti leur premier album (A Hillbilly Tribute to AC/DC) en reprenant de l'AC/DC en bluegrass.
Le groupe se compose de Barley Scotch (vocals, guitar and fiddle), du Reverend Don Wayne Reno (banjo and vocals), de Deacon Dale Reno (mandolin, guitar and vocals) et de Jake "Bakesnake" Byers (bass and vocals) qui possède une barbe impressionnante.
Au niveau technique, il n'y a pas à dire, ils assurent ! Le son était très bon, la salle loin d'être pleine : je pense que nous devions être 80 (100 à tout casser). J'ai beaucoup aimé l'humour du groupe – au départ le chanteur (Barley) a dit qu'il y avait seulement 4 sujets sur lesquels chanter : Drinking, Cheating, Killing And Hell. Excellent.
Setlist
Dirty Deeds Done Dirt Cheap (AC/DC cover)
Kirby Hill
You Shook Me All Night Long (AC/DC cover)
Hell's Bells (AC/DC cover)
Black Dog (Led Zeppelin cover)
Tolerance
Walk This Way (Aerosmith cover)
Ace Of Spades (Motörhead cover)
Eine Kleine Trinkmusik
Bohemian Rhapsody (Queen cover)
Corn Liquor
Bad Moon Rising (Creedence Clearwater Revival cover)
In the Backyard
War Pigs (Black Sabbath cover)
She Was Skinny When I Met Her
Fat Bottomed Girls (Queen cover)
I'm Keeping Your Poop
Holiday (Green Day cover)
Moonshiner's Daughter
Highway To Hell (AC/DC cover)

Encore

Will the Circle Be Unbroken (?)
Dueling Banjos
Articles en rapport: