Jeudi dernier, je suis allé voir Spock's Beard et Enochian Theory à la Scène Bastille, dans le 11ème arrondissement de Paris.
Pour l'occasion, mon père et ma sœur m'ont accompagné. A cause d'un RER annulé, j'ai loupé la moitié de la première partie mais j'en ai entendu assez pour me faire une idée.
Première partie : Enochian Theory
Enochian Theory est un groupe de métal/rock-progressif britannique constitué de Sam Street à la batterie, Shaun Rayment à la basse et Ben Harris Hayes aux chants/guitares/claviers.
J'ai bien aimé le mélange : il y a eu du métal classique, des morceaux très aériens et lancinants, un peu de growl. Je n'ai pas assisté au début mais je ne connaissais pas ce groupe et cela m'a bien plu.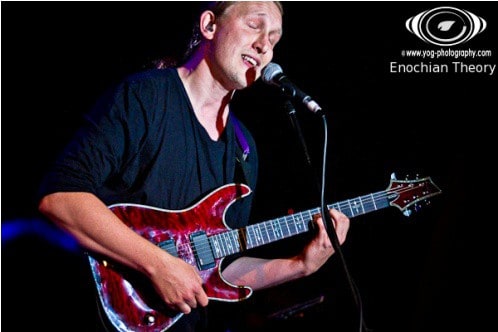 Par contre, j'ai remarqué qu'il manquait un guitariste : on pouvait entendre des loops et une rythmique qui n'était pas jouée par le guitariste. Apparemment, le groupe s'est défait d'un de ses guitaristes, ce qui explique cela.
Spock's Beard
Spock's Beard est sans conteste l'un des meilleurs groupes de rock progressif américain, créé en 1993 par les frères Neal Morse (claviers) et Alan Morse (guitares).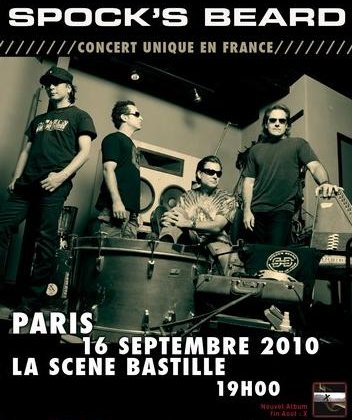 Neal Morse a fait une carrière solo et Spock's Beard compte actuellement 4 membres : Nick D'Virgilio (lead vocals, drums, guitar, keyboard), Alan Morse (guitar, vocals), Ryo Okumoto (keyboards, vocals), Dave Meros (bass guitar, vocals, keyboard) et Jimmy Keegan qui est leur batteur live.
J'ai rarement vu musiciens aussi talentueux : Nick D'Virgilio par exemple est un tueur. Il chante bien, s'occupe des guitares rythmiques et acoustiques, pianote sur un clavier pour donner la réplique à Ryo (le claviériste) et s'engage dans des duels de batteries avec le batteur (il y a deux batteries sur scène). Bref, il est partout ! Il ressemble d'ailleurs à un New Yorkais d'origine italienne, c'est assez drôle.
En jetant un oeil sur Wikipedia, on peut apprendre qu'il a remplacé Phil Collins (Genesis) et Mark Zonder (Fates Warning), qu'il a joué sur un des albums de Jordan Rudess (Dream Theater) et pour Tears for Fears. Rien que ça !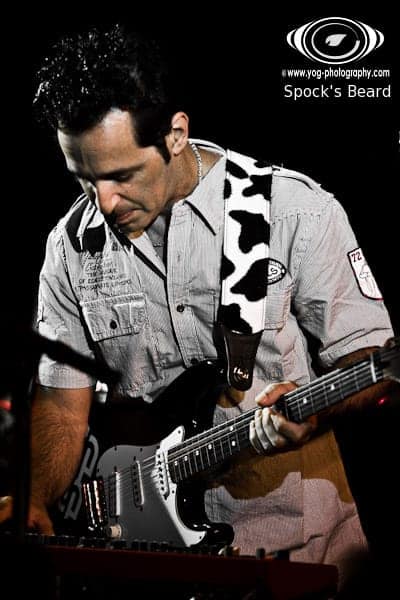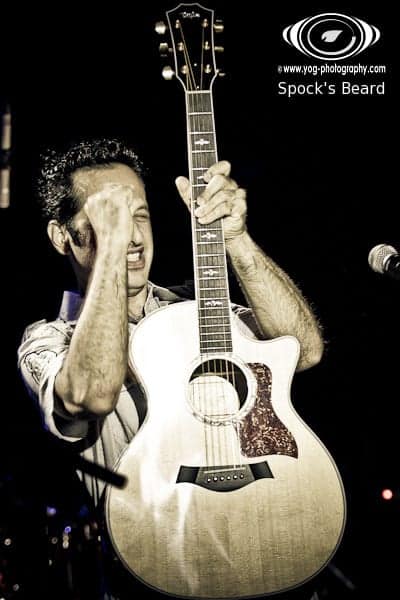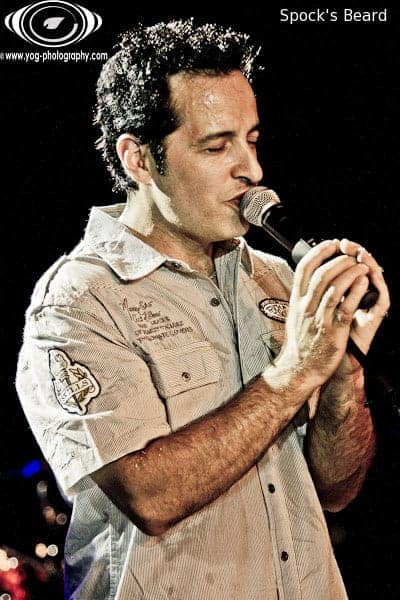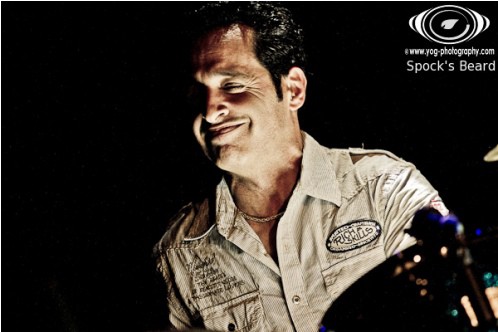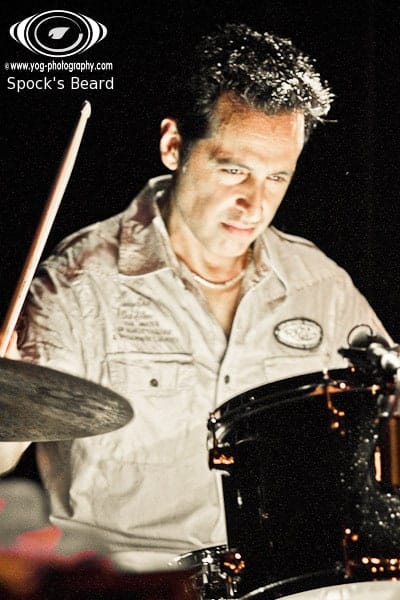 Le guitariste, Alan Morse, joue sans médiator, ce qui est assez étrange pour un groupe de rock. Il fait des mimiques de métalleux, c'est assez drôle à voir.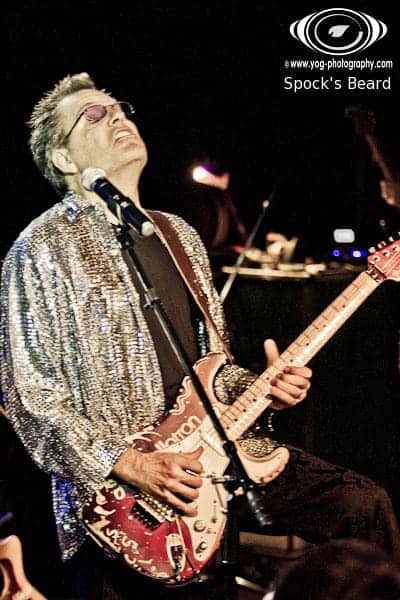 Je vous garde le meilleur pour la fin : Ryo Okumoto aux claviers. Il joue face au public, entre deux claviers, une main sur chaque.
Coiffé d'un bandana noir et blanc et de lunettes de soleil, il regarde le public en faisant le signe des cornes métal.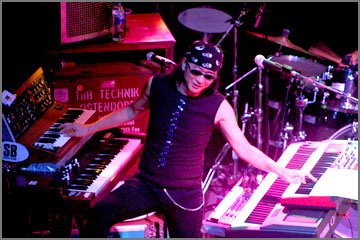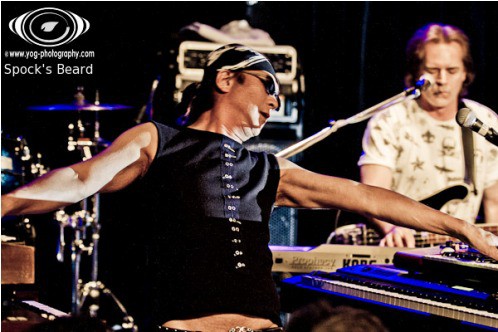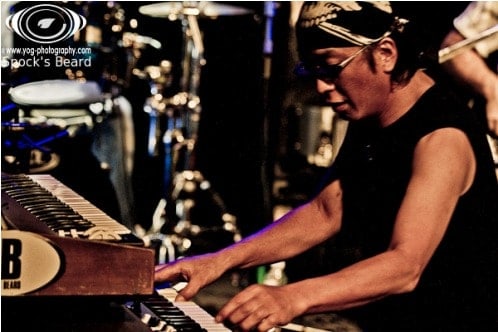 Adulé du public, il se retourne à un moment du concert et saute en arrière sur son clavier, fesses sur les touches pour plus de son ! Énorme.
A un autre moment, il s'est mis debout les pieds sur le clavier de droite et les mains sur le clavier de gauche, en équilibre… il est tout fou et génial à la fois : il part sur des solos hallucinants et retombe sur ses pattes (si je puis dire) synchro avec le reste du groupe. Incroyable prestation !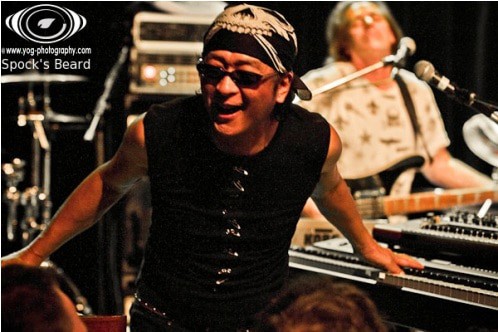 Le groupe a l'habitude de jouer ensemble et cela se voit tout de suite dans la complicité et l'humour entre les membres du groupe. Parmi les influences, j'ai reconnu Genesis, Yes, Marillion, Pink Floyd et Dream Theater.
Leur style mélange classique, pop, rock, jazz fusion et de rhythm'n'blues. Beaucoup de technique et d'harmonies à couper le souffle aussi.
Setlist
Voici la setlist que je pense avoir à peu près recollée. Je ne suis pas sûr de la fin par contre.
Edge of the In-Between
The Emperor's Clothes
From the Darkness
The Quiet House
The Man Behind the Curtain
Kamikaze
Jaws of Heaven
Drum Battle (Nick D'Virgilio vs Jimmy Keegan)
On a Perfect Day
Thoughts
Keyboard Solo (Ryo Okumoto)
The Doorway
?
A voir absolument !
Articles en rapport: