Jon Lord – Jonathan Douglas "Jon" Lord aka 'Hammond Lord' – co-fondateur et claviériste du groupe de rock britannique Deep Purple est décédé lundi 16 juillet 2012 à la London Clinic d'une embolie pulmonaire à l'âge de 71 ans.
Le musicien luttait contre un cancer du pancréas depuis le mois d'août dernier.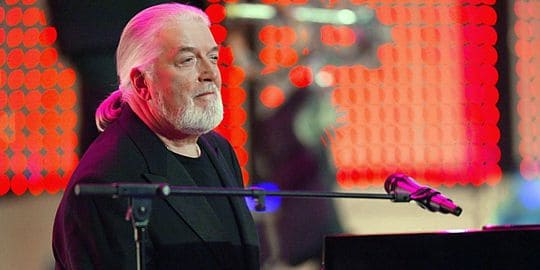 Né en 1941 à Leicester, Jon Lord a fait des études de musique au conservatoire de Londres et a commencé sa carrière musicale en 1960 dans des combos jazz.
Avant de fonder Deep Purple fin 1967-début 1968 avec Ritchie Blackmore, il travaille avec deux autres groupes : Artwood, conduit par le chanteur Art Wood, puis les Flowerpot Men, groupe dans lequel il joue avec Nick Simper, qui devient par la suite le premier bassiste de Deep Purple.
Le 24 septembre 1969, Jon Lord enregistre au Royal Albert Hall de Londres son Concerto for Group and Orchestra avec Deep Purple et les musiciens du Royal Philharmonic Orchestra.
Il devient ainsi l'un des pionniers de la fusion entre le rock et la musique orchestrale.
Jon Lord a aussi joué avec beaucoup d'autres groupes et musiciens tout au long de sa carrière, comme le groupe de hard rock Whitesnake avec David Coverdale (qu'il rejoint en 1978) ou Tony Ashton.
Avec ce dernier, il enregistre un disque en 1974, First of the Big Band et après la première séparation de Deep Purple en 1976, il crée même un groupe baptisé Paice-Ashton-Lord avec son beau-frère Ian Paice (avec à la clé un album, Malice in Wonderland).
En 1984, il participe naturellement à la reformation de Deep Purple. Il y restera jusqu'en 2002, date à laquelle il abandonne définitivement le groupe, remplacé par Don Airey, afin de poursuivre des projets plus personnels.
Tout au long de sa carrière, Jon Lord a enregistré de nombreux albums solo, dont Sarabande en 1976 avec Pete York à la batterie et Andy Summers (futur membre de The Police) à la guitare ; Before I Forget en 1982 ; Picture Within en 1998.
En réaction à l'annonce de la mort de Jon Lord, Tom Morello (Rage Against The Machine), a écrit sur Twitter : "Que le grand Jon Lord, le claviériste incontournable de Deep Purple, repose en paix. Tellement de grandes, grandes chansons et ce son incroyable qui était le sien ! Merci."
Son ami Rick Wakeman, l'ancien claviériste du groupe de rock progressif Yes, a assuré qu'il était «un grand admirateur» de Jon Lord.
«Nous avions prévu d'écrire et d'enregistrer un album avant qu'il ne tombe malade», a-t-il indiqué. «Sa contribution à la musique et au rock classique est immense et il me manquera terriblement.»
RIP Jon.
Articles en rapport: