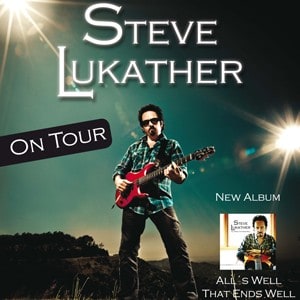 Samedi soir, j'ai assisté au concert de Steve Lukather (ex-guitariste de Toto, entre autres) à l'Élysée Montmartre à Paris.
Une fois n'est pas coutume, je suis en avance. La salle se remplit tranquillement et au moment où le concert commence (pile à l'heure, 20h30), elle est quasi bondée.
Pas de première partie, Steve Lukather arrive sur scène avec le reste de son groupe : Steve Weingart aux claviers, Eric Valentine aka "Mister Chocolate" à la batterie et Renée Jones à la basse.
Le son était pas mal, même si je pense que l'on n'entendait pas suffisamment la basse.
Certains morceaux m'ont rappelé Dream Theater dans leur composition déstructurée, un morceau a été joué tout doucement genre jazz-rock, il y a eu des morceaux blues, d'autres acoustiques, du shred, du prog… le show est très varié !
Out of Love + Tears Of My Own Shame
PHA+PGlmcmFtZSBzdHlsZT0id2lkdGg6OTAwcHg7IGhlaWdodDo1MDZweDsgYm9yZGVyOm5vbmUiIGFsbG93ZnVsbHNjcmVlbiBzcmM9Imh0dHBzOi8vd3d3LnlvdXR1YmUtbm9jb29raWUuY29tL2VtYmVkL0JRR3FrMFhuWVNZP2l2X2xvYWRfcG9saWN5PTM7bW9kZXN0YnJhbmRpbmc9MTtzaG93aW5mbz0wO2ZzPTEiPjwvaWZyYW1lPjwvcD4=
Le batteur a été très bon, admirez les effets scéniques lors de son solo :
PHA+PGlmcmFtZSBzdHlsZT0id2lkdGg6OTAwcHg7IGhlaWdodDo1MDZweDsgYm9yZGVyOm5vbmUiIGFsbG93ZnVsbHNjcmVlbiBzcmM9Imh0dHBzOi8vd3d3LnlvdXR1YmUtbm9jb29raWUuY29tL2VtYmVkL1g2WEtoMTJQLWpJP2l2X2xvYWRfcG9saWN5PTM7bW9kZXN0YnJhbmRpbmc9MTtzaG93aW5mbz0wO2ZzPTEiPjwvaWZyYW1lPjwvcD4=
Tumescent + Drum Solo
Au départ on dirait qu'il rebondit sur son siège et que les baguettes rebondissent automatiquement. Vers la fin, il donne l'impression de courir et d'être pourchassé. C'est vraiment bien fait.
J'ai bien aimé le solo de Steve : cela commence sur Little Wing de Jimi Hendrix et ça finit dans le désert entre deux dunes, génial :
PHA+PGlmcmFtZSBzdHlsZT0id2lkdGg6OTAwcHg7IGhlaWdodDo1MDZweDsgYm9yZGVyOm5vbmUiIGFsbG93ZnVsbHNjcmVlbiBzcmM9Imh0dHBzOi8vd3d3LnlvdXR1YmUtbm9jb29raWUuY29tL2VtYmVkL0k2bWlBaTlwZ3BBP2l2X2xvYWRfcG9saWN5PTM7bW9kZXN0YnJhbmRpbmc9MTtzaG93aW5mbz0wO2ZzPTEiPjwvaWZyYW1lPjwvcD4=
Guitar Solo : Little Wing in the Desert ?
Steve s'est beaucoup adressé au public et je n'ai pu m'empêcher de le comparer à Danny McBride, l'acteur qui joue dans la série Eastbound and Down : il possède une voix et un ton similaires, sans oublier que la coupe est quasi la même. Du coup, j'ai eu le sourire à chacune de ses interventions!
Setlist
La setlist est incomplète et désordonnée mais voici ce que j'ai cru reconnaître :
Darkness in my World
Extinction Blues
Ever Changing Times
Song for Jeff
68
Tumescent
Drum Solo
Out of Love
Tears Of My Own Shame
Guitar Solo sur fond de "Little Wing"
Brody's
The Road Goes On
Le concert a duré 1h45 en tout. Steve était en pleine forme et a beaucoup communiqué avec le public entre les chansons, c'est quelque chose qui est très appréciable. Très bon concert !
Articles en rapport: