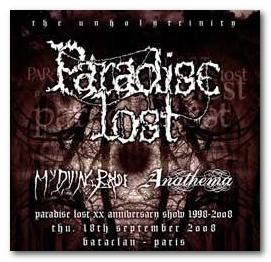 Je suis allé voir Paradise Lost, Anathema et My Dying Bride (rassemblés pour The Unholy Trinity Tour 2008) au Bataclan à Paris.
Arrivé quelques minutes en retard, je file à l'étage me trouver une place assise et en trouve une sur le côté droit en tâtonnant dans le noir, excellemment bien située pour tout apprécier.
Anathema
J'ai pris leur concert en cours de route et je me suis un peu maudit d'en avoir loupé quelques minutes ! C'est bien simple, j'ai tout simplement adoré : le son était super et leur style me plaît vraiment.
Il y avait quelques accents à la Pink Floyd ou Marillion et ce style metal/prog-rock couplé aux jeux de lumières… excellent !
Setlist

Deep
Empty
Closer
A Natural Disaster
Angelica
One Last Goodbye
Flying
A Dying Wish
Sleepless
Shroud Of False
Fragile Dreams
Détail : ils étaient habillés casual, en jeans et veste, sans verser dans le stéréotype cliché du métalleux tout de cuir vêtu.
My Dying Bride
Le contraste avec le groupe précédent a un peu clashé je dois dire. J'ai eu un irrépressible fou-rire pendant les premières minutes.
Je n'ai pas vraiment aimé donc je ne vais pas m'étendre sur ce groupe, ni sur les poses théâtrales agonisantes et torturées du chanteur…
Une seule chanson m'a vraiment titillé l'oreille mais n'étant pas fan, je suis incapable d'en donner le titre… c'était plutôt calme (pas de beuglements donc), avec un thème récurrent.
Setlist

Here In The Throat
The Songless Bird
From Darkest Skies
And I Walk With Them
The Cry Of Mankind
The Snow In My Hand
Vast Choirs
The Dreadful Hours
Paradise Lost
C'était la tête d'affiche, LE groupe qu'il me tardait de voir. J'ai bien aimé le son, ils ont bien joué et le choix de la setlist était bien mais j'ai trouvé que les versions ressemblaient furieusement aux versions albums, c'est-à-dire sans la valeur ajoutée qu'est supposé apporter le live.
J'ai regretté l'absence du clavier et de la chanteuse que l'on pouvait entendre sur la bande-son. Il aurait été pas mal de les avoir sur scène. Petit rappel – ils ont joué 1h30 en tout.
Setlist

Hallowed Land
Rememberance
Never For The Damned
Erased
Elusive Cure
Shadow Kings
No Celebration
Ash And Debris
As I Die
The Enemy
Gothic
Enchantment

Rappel

Requiem
Say Just Words
One Second
The Last Time
J'étais parti pour voir Paradise Lost et finalement, il se trouve qu'Anathema remporte pour moi la palme de la soirée !
Joyeux 20ème anniversaire Paradise Lost!
Articles en rapport: