Mercredi soir, je suis allé voir Wolfmother en concert au Trabendo. J'y suis allé parce qu'Olivier avait une place VIP en trop, obtenue par un ami photographe à lui. Bien cool de sa part !
Première partie : The Hall Effect
Nous sommes arrivés dans la salle alors que leur dernier accord résonnait. The Hall Effect – groupe indie colombien qui chante en anglais – sonne pourtant bien si l'on en juge leurs titres sur MySpace.
Leur bassiste ressemble pas mal à Lemmy Kilmister de Motörhead, je trouve cela rigolo.
Wolfmother
Concert court (1h15 en tout) mais très bon : j'ai trouvé le son excellent, le groupe bouge vraiment bien sur scène et nous nous sommes régalés.
Les influences sont perceptibles immédiatement : quelques accords ici qui sonnent comme les Rolling Stones, d'autres accords clairs à la Led Zeppelin, un phrasé à la Black Sabbath là-bas, la voix du chanteur qui s'apparente à celle de Jack White des White Stripes… pas à dire, on sait à peu près à quoi ils ont été nourris !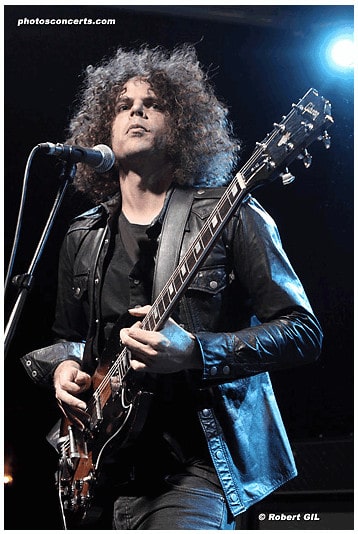 Et bien tout ce petit mélange se mixe très bien et même si je trouve les morceaux un peu courts en live, il y a de très bons riffs (bonne utilisation des effets) et le bassiste qui joue en même temps de l'orgue Hammond en se déhanchant comme un fou est une attraction à lui tout seul.
Le chanteur/lead guitarist et le bassiste possèdent tous deux une coiffure folle : croisement entre la coiffure afro des Jackson 5 avec une chevelure de glam-rockeux des années 80. C'est énorme.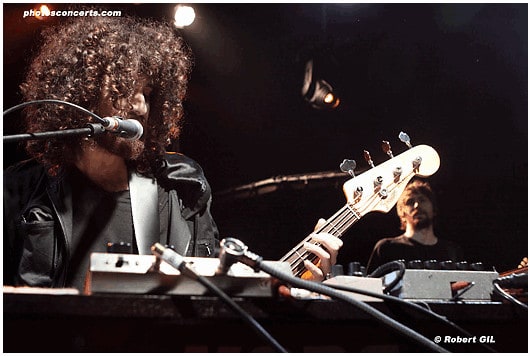 Bonne réaction du public, plutôt jeune et pas mal anglo-saxon. Certains ont fait du crowd-surfing tout le concert, ce qui est un peu agaçant (mon moment préféré étant quand ils s'écrasent à terre lorsque plus personne ne les portent).
A noter que Wolfmother ouvrira pour AC/DC lors de la tournée australienne du Black Ice Tour l'année prochaine.
Crédit photos : Robert GIL.
Setlist
Dimension
Cosmic Egg
White Unicorn
New Moon Rising
Woman
White Feather
Vagabond
Mind's Eye
10.000 Feet
Colossal

Encore

Back Round
Joker & The Thief
Au final, un très bon concert.
Merci Olivier et R. !
Articles en rapport: