Concert du jeudi 23 octobre 2008. Compte rendu de Jac.
Le concert de Suzanne Vega a eu lieu à St Herblain près de Nantes dans la salle de l'Onyx. Le bâtiment est un grand cube noir à l'extérieur comme à l'intérieur. Les portes sont ouvertes une heure avant le concert, ce qui est sympathique en cas de pluie ou froid.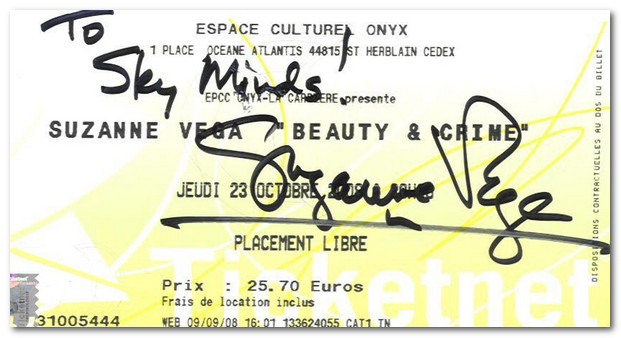 La salle était pleine et les derniers arrivés ont du se caser où ils pouvaient. Nous étions très bien placés – au milieu, 5ème rang, pile en face de Suzanne. Pour info, les 4 premiers rangs sont au ras du sol et il faut lever le nez pour voir les artistes, le 5ème est surélevé donc pas de têtes qui dépassent devant nous.
Le concert a débuté vers 20h40 par Marlene on the wall. Nous avons eu droit à un mélange de chansons du dernier album et des chansons anciennes (3 du premier album il me semble). A un moment elle a demandé quelle chanson on voulait qu'elle chante – sauf Luka et Tom's Dinner car elle les chanterait à la fin. Quelqu'un a demandé World before Columbus. Elle venait de chanter The Queen and the Soldier qui est une de mes préférées.
Suzanne Vega a fait de gros progrès en français par rapport à sa venue à Nantes en 1997. Elle a même fait dire quelques phrases à Gerry, l'excellent guitariste qui l'accompagne.
Elle a joué de la guitare sur tous les morceaux sauf Frank & Ava et Tom's Dinner. Gerry a été chaleureusement applaudi lors de plusieurs morceaux, Suzanne lui attribuant les applaudissements du public. Le spectacle était prévu pour 1h20 et l'on a pas vu le temps passer. Deux rappels avec les 2 artistes et le 3ème avec Suzanne seule avec la chanson Anniversary.
Après le concert signatures d'autographes pour les fans (dédicace SkyMinds bien sûr !). J'aime bien ces salles où l'on peut rencontrer les artistes et parler un peu avec eux .
Petite discussion bien sympathique avec Gerry au bar qui a trouvé l'acoustique de la salle excellente et qui disait que la tournée était un grand succès. Quelqu'un avec du talent et beaucoup de simplicité. Tant mieux car elle ne mettra peut-être plus 11 ans pour revenir dans la région !
Articles en rapport: