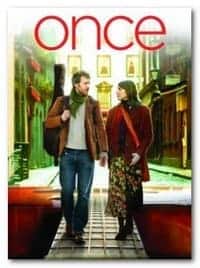 Je viens de visionner le film Once de John Carney avec Glen Hansard (chanteur du groupe The Frames) et Marketa Irglova. Le film décrit une histoire d'amour entre un auteur-compositeur irlandais qui répare des aspirateurs et une immigrée Tchèque qui vend des magazines ou des roses.
Lui joue de la guitare dans les rues de Dublin, elle joue du piano dans un magasin de musique parce que le gérant le lui permet. Il sort d'une rupture douloureuse. Elle est mariée à un homme qu'elle n'aime plus et qui n'a pas pu venir en Irlande avec elle à cause d'un visa.
Ils décident alors d'écrire et de jouer des chansons qui racontent leur histoire d'amour.
Petit aperçu de ce que l'on peut entendre dans le film, voici Glen Hansard interprétant le titre Say it to me now en pleine rue :
L'histoire est excellente et la musique absolument superbe. C'est le genre de BO à posséder absolument dans sa discothèque tellement cela prend aux tripes. Depuis que je l'ai, elle ne me quitte plus.
Articles en rapport: