Cette année, je suis allé au festival des Vieilles Charrues avec mon père. La dernière fois, c'était en 2008 avec ma soeur.
Neil Young
Nous étions 65.000 festivaliers sur la prairie de Kerampuilh, plus précisément sur la scène Glenmor, pour écouter Neil Young and Crazy Horse, son groupe privilégié depuis 1969.
Neil Young & Crazy Horse, c'est un folk rugueux, terriblement addictif, baigné de guitares orageuses, ou surnage une voix à la fois haut perchée et nasillarde, reconnaissable entre mille.
Songwriter et guitariste d'exception, le Loner livre sur scène un folk rock mâtiné à la fois de country et de grunge avec la même passion, la même envie qu'autrefois, à coups de guitares saturées et de riffs lancinants.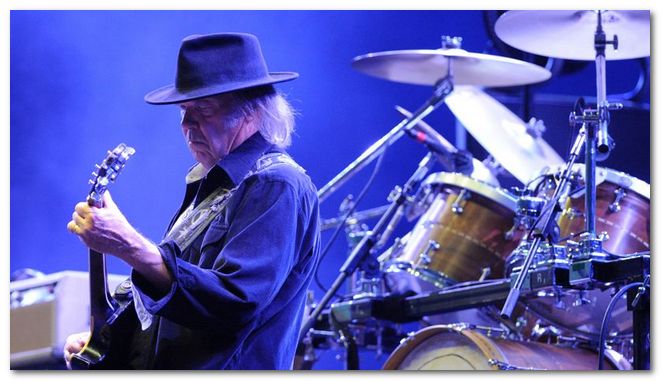 Le rock furieusement électrique de la formation continue de surprendre ceux qui ne connaissent du sexagénaire que son versant paisible, révélé sur Harvest (1972), plus gros succès de sa carrière.
Comes a time:
PHA+PGlmcmFtZSBzdHlsZT0id2lkdGg6OTAwcHg7IGhlaWdodDo1MDZweDsgYm9yZGVyOm5vbmUiIGFsbG93ZnVsbHNjcmVlbiBzcmM9Imh0dHBzOi8vd3d3LnlvdXR1YmUtbm9jb29raWUuY29tL2VtYmVkL2hXV1dGLUpPYzdZP2l2X2xvYWRfcG9saWN5PTM7bW9kZXN0YnJhbmRpbmc9MTtzaG93aW5mbz0wO2ZzPTEiPjwvaWZyYW1lPjwvcD4=
Guitariste puissant et inventif, Neil sculpte le son dans un déluge de saturation et de larsens pendant une bonne heure avant de livrer Heart of Gold, son plus gros tube, guitare sèche en bandoulière et harmonica autour du cou :
PHA+PGlmcmFtZSBzdHlsZT0id2lkdGg6OTAwcHg7IGhlaWdodDo1MDZweDsgYm9yZGVyOm5vbmUiIGFsbG93ZnVsbHNjcmVlbiBzcmM9Imh0dHBzOi8vd3d3LnlvdXR1YmUtbm9jb29raWUuY29tL2VtYmVkL3VwVXExM1JmelNNP2l2X2xvYWRfcG9saWN5PTM7bW9kZXN0YnJhbmRpbmc9MTtzaG93aW5mbz0wO2ZzPTEiPjwvaWZyYW1lPjwvcD4=
Souriant et complice avec ses musiciens, Neil Young n'a pas besoin de discourir pour séduire le public.
Aux côtés de pièces tirées de son dernier album, Psychedelic Pill, l'homme ne rechigne pas à revisiter ses grands succès, de Rockin' in the Free World à Cinnamon Girl, en passant par Mr Soul ou encore en reprenant Blowin' in the Wind de Bob Dylan :
PHA+PGlmcmFtZSBzdHlsZT0id2lkdGg6OTAwcHg7IGhlaWdodDo1MDZweDsgYm9yZGVyOm5vbmUiIGFsbG93ZnVsbHNjcmVlbiBzcmM9Imh0dHBzOi8vd3d3LnlvdXR1YmUtbm9jb29raWUuY29tL2VtYmVkLzQ1bi1YTUM3RHl3P2l2X2xvYWRfcG9saWN5PTM7bW9kZXN0YnJhbmRpbmc9MTtzaG93aW5mbz0wO2ZzPTEiPjwvaWZyYW1lPjwvcD4=
Après 2h20 de concert, il entonne My My, Hey Hey (Into the Black), furieuse ode au rock'n'roll qui finit en apothéose :
PHA+PGlmcmFtZSBzdHlsZT0id2lkdGg6OTAwcHg7IGhlaWdodDo1MDZweDsgYm9yZGVyOm5vbmUiIGFsbG93ZnVsbHNjcmVlbiBzcmM9Imh0dHBzOi8vd3d3LnlvdXR1YmUtbm9jb29raWUuY29tL2VtYmVkLzRidEs4M0VjSk44P2l2X2xvYWRfcG9saWN5PTM7bW9kZXN0YnJhbmRpbmc9MTtzaG93aW5mbz0wO2ZzPTEiPjwvaWZyYW1lPjwvcD4=
Neil Young s'est livré à fond, faisant gémir sa Gibson, chapeau sur les yeux, absorbé par sa guitare, la voix obsédante. Le sorcier a cherché le tonnerre, voulant déchirer les nuages.
Ça sentait le feu, mais les cieux ont résisté à l'attaque, ne laissant passer que quelques gouttes.
J'ai beaucoup aimé Walk Like A Giant (malgré les larsens qui ont duré un peu trop longtemps), dommage que personne ne l'ait mis sur Youtube.
Setlist
01. Love And Only Love
02. Powderfinger
03. Psychedelic Pill
04. Walk Like A Giant
05. Hole In The Sky
06. Comes A Time
07. Heart Of Gold
08. Blowin' In The Wind
09. Singer Without A Song
10. Ramada Inn
11. Sedan Delivery
12. Surfer Joe And Moe The Sleaze
13. Rockin' In The Free World
14. Mr. Soul
—
15. Cinnamon Girl
16. Fuckin' Up
17. Hey Hey, My My (Into The Black)
Un concert inoubliable. ON A VU NEIL YOUNG !!!
Articles en rapport: