Mardi, c'était la grève mais cela ne m'a pas empêché d'aller voir Tom McRae en concert à la Cigale, dans le 18ème arrondissement de Paris (arrêt de métro Pigalle sur la ligne 2).
Bon, par contre j'ai loupé le RER à 2 minutes donc j'ai dû prendre le suivant, 40 minutes plus tard ! J'ai donc loupé quelques minutes de la première partie.
Première partie : Brian Wright
Brian Wright est un musicien folk texan : il a joué de la guitare et du piano. Une pointe d'harmonica sur le dernier morceau. La musique est country, la voix puissante et rauque. Le peu que j'en ai entendu à la guitare m'a fait penser à du Neil Young et du Ryan Adams.
Tom McRae
Tom McRae est un auteur-compositeur-interprète anglais et il fêtait ce soir ses 10 ans de scène : son premier album (éponyme) est sorti en octobre 2000.
A & B Song:
https://www.youtube.com/watch?v=3HrEAqwUGTg
La Cigale avait gardé les places assises, ce qui donnait l'impression que la salle était comble alors que le concert n'était pas complet.
Tom était en forme : superbe voix, beaucoup d'humour, bonne interaction avec le public qui était plutôt middle-aged.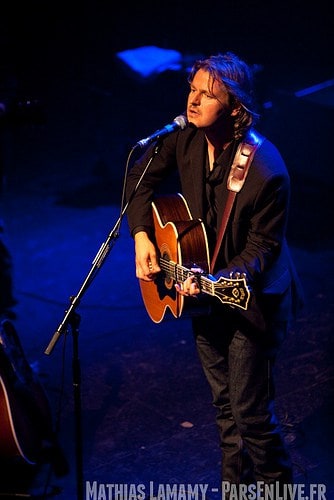 Le groupe chantant ensemble, a capella :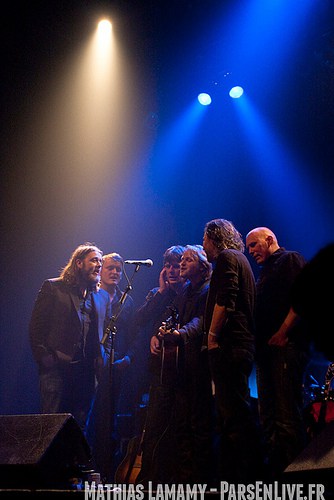 Le batteur timide, propulsé par les autres sur le devant de la scène :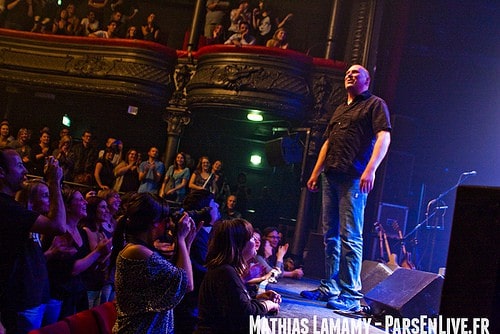 Crédit photos : Mathias Lamamy / Pars en Live.
J'ai bien aimé le passage au ukulélé avec la chanson Still Love You qui enchaîne sur Tombrella (reprise de la chanson Umbrella de Rhianna). Visiblement, personne ne l'a filmé à La Cigale donc voici ce qu'il a joué à Bruxelles, le soir précédent :
Still Love You &Tombrella @ Brussels, Belgium (11 Oct 2010) :
PHA+PGlmcmFtZSBzdHlsZT0id2lkdGg6OTAwcHg7IGhlaWdodDo1MDZweDsgYm9yZGVyOm5vbmUiIGFsbG93ZnVsbHNjcmVlbiBzcmM9Imh0dHBzOi8vd3d3LnlvdXR1YmUtbm9jb29raWUuY29tL2VtYmVkL1BoSGJkSmZYdjBJP2l2X2xvYWRfcG9saWN5PTM7bW9kZXN0YnJhbmRpbmc9MTtzaG93aW5mbz0wO2ZzPTEiPjwvaWZyYW1lPjwvcD4=
Tom McRae s'est amusé avec son groupe à leur faire de petites blagues ou à plaisanter avec le public.
Il a fait chanté les femmes, puis les hommes en canon puis, voyant que les femmes étaient en surnombre, a demandé aux hommes de chanter plus fort.
Échec et conclusion immédiate de Tom :
None of you are getting sex tonight ! At least not with the person you came with…
Excellent.
Setlist
Le concert a duré 1h30. Voici la playlist – très provisoire, selon mes souvenirs :
Mermaid Blues (a capella)
Karaoke Soul
End of the World News
Summer Of John Wayne
Please
Streetlight
A And B Song
Me and Stetson
Walking to Hawaii
Boy With the Bubblegun
Still Love you + Tombrella (Umbrella/Rhianna cover)
Silent Boulevard

Encore

You Cut Her Hair
Draw Down the Stars
Bon concert, assez mélancolique comme musique tout de même.
Articles en rapport: