Je suis allé voir Suzanne Vega en concert au théâtre Marigny, situé dans le carré Marigny des jardins des Champs-Elysées, en compagnie de Julia et Jack.
Pour s'y rendre, il a fallu jongler avec différents métros vu que plusieurs sorties de métro ont été fermées à cause de la visite à Paris du Premier ministre chinois… sécurité maximale dans le quartier!
Première partie : MOME
Une première partie assez étrange : un guitariste sénégalais qui chante en africain avec des accords plutôt connus (le premier morceau était une copie parfaite de Knocking on Heaven's Door par exemple). Vraiment sans plus.
Suzanne Vega et Gerry Leonard
Le théâtre Marigny est vraiment magnifique : 3 balcons, une formidable coupole dans le plafond qui domine l'orchestre.
L'ambiance est feutrée, rouge et dorée. L'ouvreuse vous mène à vos places. Nous sommes dans l'orchestre.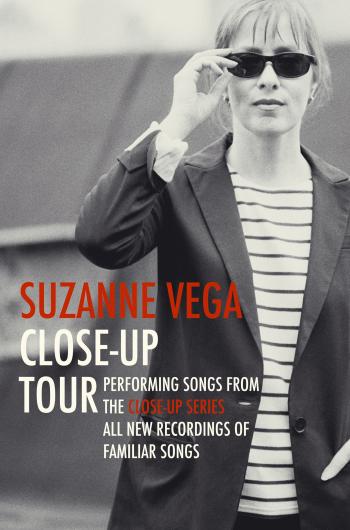 Comme à son dernier concert, Suzanne Vega est accompagnée par un guitariste électrique exceptionnel, Gerry Leonard, qui a joué avec David Bowie lors de ses dernières tournées mondiales.
Suzanne nous a raconté comment sont "nées" quelques chansons et c'était bien drôle, elle a vraiment un talent pour raconter des histoires sur scène.
Elle possède un accent qui est vraiment compréhensible pour tout le monde, ça c'est vraiment génial.
Juste pour le public parisien, Suzanne nous a gratifié d'une reprise inédite en version anglaise du Bonnie and Clyde de Serge Gainsbourg :
Suzanne a joué une chanson qu'elle avait écrite pour Sparklehorse, en hommage à Mark Linkous qui s'est suicidé il y a quelques mois, ainsi qu'une nouvelle chanson pour sa pièce de théâtre basée sur une nouvelle de Carson McCullers, qui sera jouée à Broadway au printemps 2011.
J'ai bondi quand elle a dit Carson McCullers : j'avais étudié une de ses nouvelles (The Ballad of the Sad Café) quand je passais le bac et c'était vraiment de la bonne littérature sudiste. La pièce de Suzanne s'intitule Carson McCullers Talks About Love.
Setlist
Marlene
Heroes
Caramel
Small Blue Thing
Frank and Eva
Bonnie and Clyde
Gypsy
Ironbound/Fancy Poultry
Tombstone
Blood Makes Noise
Man Who Played God
The Queen and the Soldier
Rock in his pocket
Some Journey
Luka
Tom's Diner

Encore 1

Instant of the Hour After
In Liverpool
Rosemary

Encore 2

Solitude Standing
Calypso
Gerry a vraiment assuré, les parties de guitares sont sublimes : il gère vraiment bien sa pédale loop, lance une boucle puis une deuxième, solo, enlève la deuxième, en rajoute une autre… c'est vraiment bien fait.
Il a utilisé à plusieurs reprises son ebow, j'adore ça.
Excellent concert !
Articles en rapport: