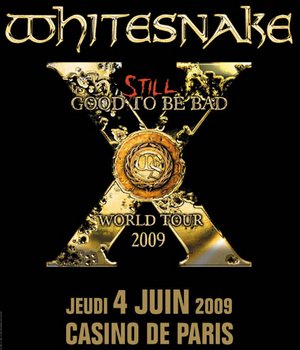 Jeudi soir, j'ai filé après les cours pour prendre le RER et me rendre au Casino de Paris pour assister au concert de Whitesnake.
Manque de pot, la fort chaleur a bloqué les freins d'une rame de RER, ce qui fait que deux de mes RER m'emmenant sur Paris ont été annulés… un peu galère, cela fait 40 minutes perdues pour rien.
A St Lazare, je demande mon chemin : aucun des chauffeurs de bus ne connaît la rue de Clichy. Incroyable.
C'est finalement un bouquiniste qui a pu me renseigner. Ce n'est pas la première fois que cela m'arrive : les gens habitent Paris mais la plupart ne connaissent pas le nom de la rue d'à côté. Si vous devez vous y rendre, c'est du côté de l'église de la Trinité.
Au Casino de Paris, mon collègue Olivier est déjà là, m'attendant avec les billets. On entre, la salle n'est pas encore remplie donc nous nous mettons dans un des petits box situés sur la droite de la scène.
Premère partie : Electric Mary

Electric Mary est un groupe australien composé de Venom (drums), Pete Robinson (guitar and vocals), Irwin Thomas (guitar and vocals), Alex Raunjak (bass guitar) et Rusty (vocals).
Du bon rock tendance classic rock avec quelques bons solos orientés shred et prog de la part de Pete Robinson, superbement placé.
Il y a eu quelques larsens à plusieurs moments mais dans l'ensemble, c'était bien. Le micro chant aurait pu être plus élevé. Venom, le batteur, joue à la John Bonham : c'est lourd et sec, ça cogne bien.
Le chanteur, Rusty, énorme armoire à glace sur scène, ressemble un peu au frère caché de Jack Nicholson.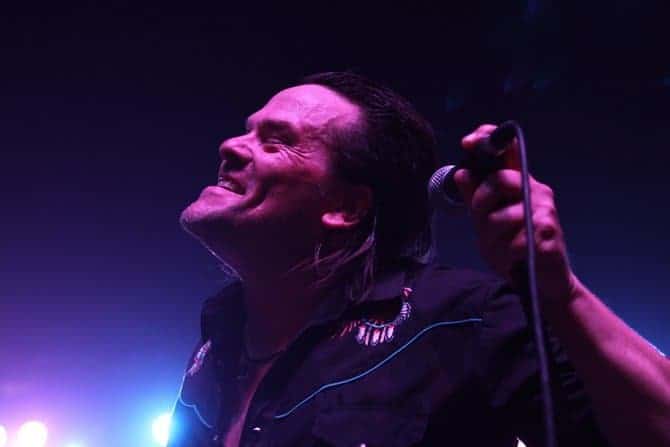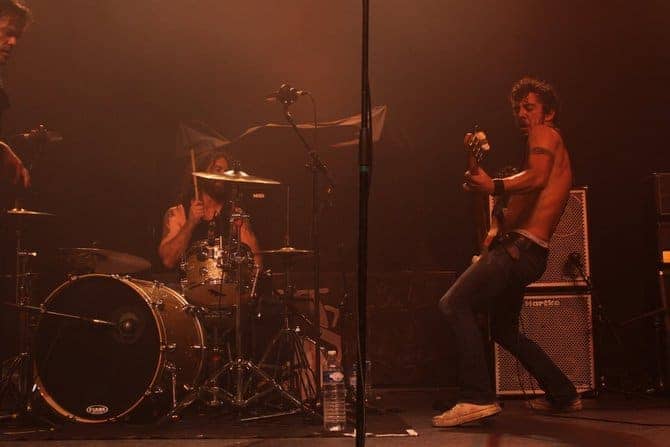 Crédits photos : Zegut (c) 2009.
Une première partie – seulement 30 minutes – c'est trop court. Il faut que j'aille les voir en tête d'affiche. Alice Cooper vient de les prendre pour assurer la première partie de sa tournée également. C'est un excellent groupe, à voir absolument.
Whitesnake
Vers 21h05, arrive Whitesnake sur scène. David Coverdale, lover devant l'éternel, fait son show mais je l'ai trouvé plutôt en verve.
Par contre, sa voix n'était pas au top : je me suis fait la réflexion à plusieurs reprises que si les autres membres du groupe ne l'accompagnaient pas au chant, il ne resterait plus grand-chose. C'est un peu dommage. J'ai lu quelque part que David Coverdale souffrait d'intoxication alimentaire ce soir-là (?).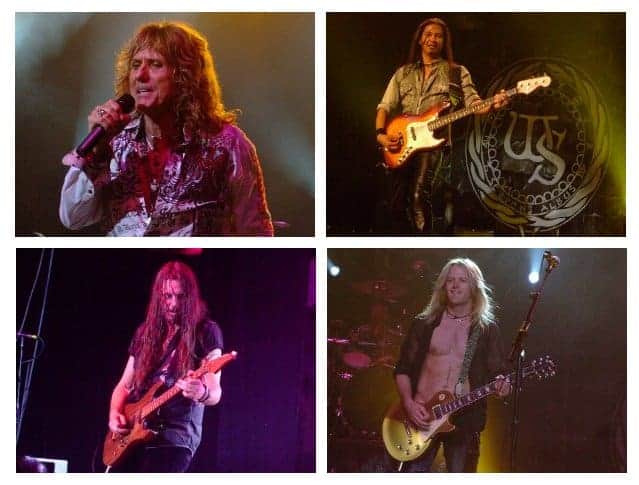 Crédits photos : MetalTraveller (c) 2009.
Les deux guitaristes se sont engagés dans des battles, techniques mais un peu longuettes peut-être. Le batteur ne valait rien.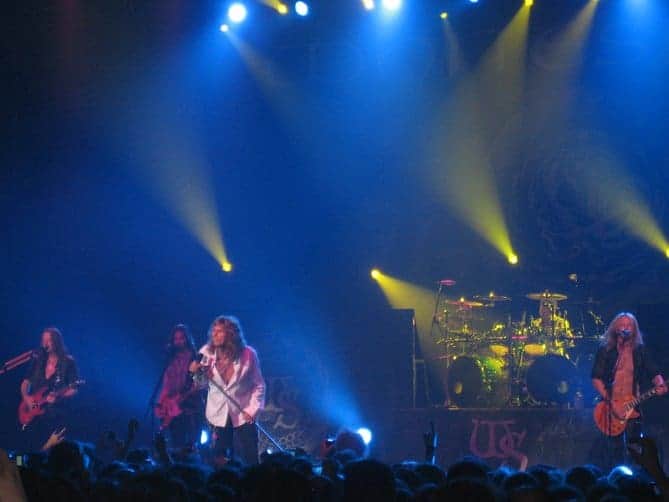 Crédits photos : Olivier (c) 2009.
David Coverdale – Vocals
Doug Aldrich- Lead Guitars
Reb Beach – Lead Guitars
Uriah Duffy – Bass
Chris Frazier – Drums
Timothy Drury – Keyboards
Setlist
1. Best Years
2. Bad Boys
3. Can You Hear The Wind Blow
4. Love Ain't No Stranger
5. Guilty Of Love
6. Lay Down Your Love
7. Blindman
8. The Deeper The Love
9. Is This Love
10.Doug Aldrich / Reb Beach Guitar Duel
11. Got What You Need
12. Drum Solo
13. Got What You Need (reprise) + Drum Solo
14. Ain't No Love In The Heart Of The City
15. Give Me All Your Love tonight
16. Here I Go Again
Encore:
17. Still Of The Night
18. Fool For Your Loving
Au final, j'ai donc été déçu par Whitesnake mais séduit par Electric Mary. Il m'a semblé que peu de vieux morceaux de Whitesnake ont été joués.
Articles en rapport: