Mardi soir, j'ai eu la grande chance de pouvoir assister au concert de Roger Hodgson, l'ex-chanteur de Supertramp à l'Olympia, en compagnie de mes parents et grâce aux places offertes par ma sœurette.
Arrivés juste à l'heure, quasiment tout le monde est assis. L'hôtesse nous indique nos places, on se met à l'aise.
J'observe un peu la scène : un piano électrique à gauche et un grand piano au milieu pour Roger Hodgson et une collection de clarinette/saxophone/claviers/harmonica/flûte pour Aaron McDonald.

Roger Hodgson
Le concert a commencé quelques minutes après l'heure indiquée sur le billet, 20h30. La scène était entourée de plantes vertes, ce qui donnait un joli effet visuel, surtout lorsque les jeux de lumières frappaient les feuilles.
Installé au quatrième rang, j'avais une vue imprenable sur la scène, juste devant Aaron.
Pas de première partie, Roger est apparu sur scène et a savouré deux bonnes minutes de standing ovation alors qu'il n'avait pas encore joué une seule note. Et oui, on l'aime Roger !
Il a regardé tout le monde en souriant, appréciant visiblement le geste sans rien dire avant de finalement saluer le public et de s'assoir au piano.
Il a fait le remarquable effort de s'adresser au public dans un français quasi impeccable, ponctué de quelques mots français ("ce soir, je parle le franglais !").
J'aime bien quand les artistes/gens font l'effort de parler la langue du pays dans lequel ils se trouvent.
Il commence par nous jouer Take The Long Way Home, Give A Little Bit et Lovers In The Wind.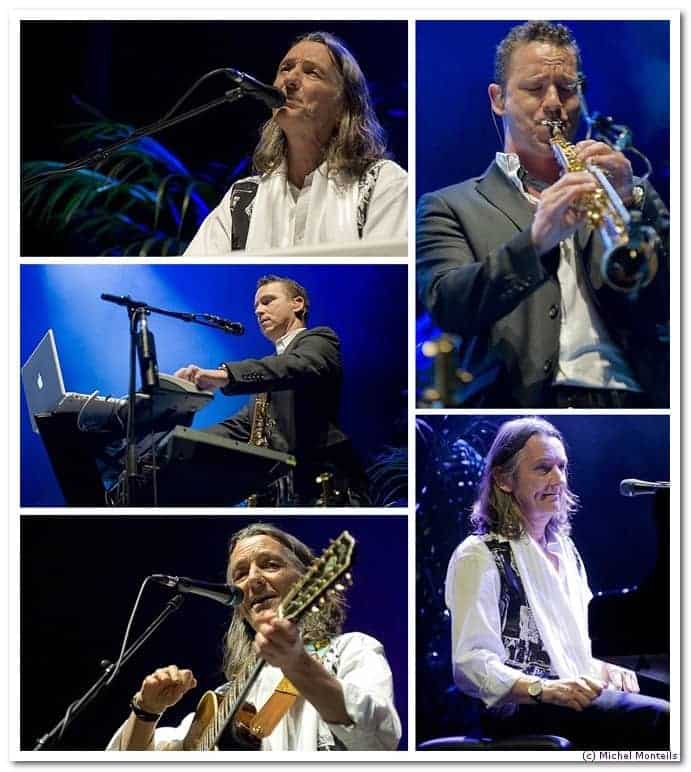 Crédit Photos : Michel Monteils
Le son était excellent, Roger en pleine forme, sa voix était parfaite et il nous a offert un formidable moment de musique et d'interaction avec le public, qui a siffloté avec brio et qui a assuré la batterie sur le morceau Don't Leave Me Now.
Le public était très connaisseur, très participatif et quand ça se passe comme ça, c'est absolument génial. A en juger par la réaction d'Aaron devant la prestation du public, il avait du mal à en croire ses yeux.
Au passage, je dois dire qu'il m'a bluffé : Aaron McDonald est un musicien canadien hors-pair. Il débouchonne ses instruments au dernier moment, clic, les accroche à sa lanière et hop, se lance dans un solo de fou, fait les cœurs dans l'aigu (et dans les chansons de Roger/Supertramp, il faut quand même de la voix !), change d'instrument, chante avec une voix de basse, refait les choeurs… hallucinant ! Je suis resté bouche bée à plusieurs reprises et je crois ne pas être le seul.
Une petite fille est venue sur scène lui amener une rose alors que le public a commencé à entonner "Happy Birthday Roger" pour fêter son 59ème anniversaire, ce qui a donné lieu à une nouvelle standing ovation.
Roger a dédié la chanson The Awakening au fan club français, très présent avec ses bannières et T-shirts et quelqu'un a ouvert un énorme parapluie au premier rang pour It's Raining Again.
J'ai trouvé cela très amusant – on ne voit pas cela dans toutes les salles de concert (surtout dans celles où on passe à la fouille systématique !).
Set-List
Take The Long Way Home
Give A Little Bit
Lovers In The Wind
Hide In Your Shell
Teach Me To Love Again : Piano
Teach Me To Love Again : Piano Électrique
The More I Look
Easy Does It
Sister Moonshine
Rosie Had Everything Planned
Breakfast In America
All Along Came Mary
The Logical Song

*** Entracte (30 min) ***

Child Of Vision
Only Because Of You
Lord Is It Mine
A Soapbox Opera
The Awakening
Don't Leave Me Now
Dreamer
Fool's Overture

*** 1er rappel ***

School
It's Raining Again

*** 2nd rappel ***
Un excellent concert qui restera dans les mémoires !
Articles en rapport: