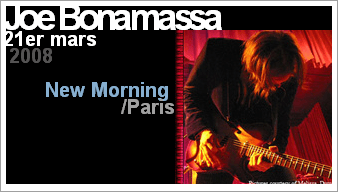 Hier soir, je suis allé voir Joe Bonamassa au New Morning, dans le Xème arrondissement de Paris.
Ce n'est pas loin de la Gare du Nord, à l'arrêt Château d'eau sur la ligne 4.
Le New Morning
Encore une nouvelle salle pour moi ! La salle est petite et bondée quand je suis arrivé. La disposition ressemble un peu à celle du Trabendo mais il y a en plus un bar avec des tables de bar donc si on arrive en premier, on peut assister au concert assis.
J'étais dans la fosse à deux mètres de la guitare de Joe, super vue mais coincé entre deux grandes baraques ! Les grands, ils se mettent toujours devant, c'est fou ça…
Joe Bonamassa
Guitar hero new-yorkais, Joe Bonamassa est sollicité lorsqu'il avait 12 ans pour assurer la première partie de B.B. King qui confessa "Le potentiel de cet enfant est si grand qu'il n'a fait que gratter la surface. Il n'est qu'un enfant, une légende avant l'heure".
Son style peut être considéré dans la même veine blues-rock que Stevie Ray Vaughan, Kenny Wayne Shepherd et Jonny Lang – surtout ce dernier au niveau de la voix.
Au niveau du jeu, Joe est un véritable technicien : il possède un jeu très incisif et rapide, qui sait rester mélodique, et emprunte des tonalités jazzy, à la Robben Ford.
J'ajouterai même qu'il y a eu des moments où il a joué comme Steve Rothery de Marillion (c'est d'ailleurs pour cette raison que je taggue l'article prog-rock alors que ce n'est pas vraiment ce style).
La batterie est bien percutante et se prête parfaitement au jeu. Les claviers suivent très bien.
Sur scène, Joe est en costume et lunettes de soleil, à la Blues Brother. Il s'exprime aussi très bien et n'a pas hésité à présenter les membres de son groupe de manière très claire et posée.
Il a aussi ironisé sur le fait que l'une de ses chansons se soit retrouvée dans un classement pop européen :
Joe Bonamassa, a pop band ?
Not a chance !
J'ai adoré le concert : le son était nickel quoique fort et Joe s'est bien lâché sur scène. Il a même intégré Just got paid de ZZ Top et Dazed and Confused de Led Zeppelin au milieu d'une de ses chansons :
J'ai aussi bien aimé la petite partie acoustique avec l'intro orientale, c'était très très fort.
Setlist
Bridge To Better Days (album You And Me – 2006)
Walk In My Shadow (album A New Day Yesterday – 2000)
So Many Roads (album You And Me – 2006)
Mountain Time (album So, It's Like That – 2002)
Another Kind Of Love (album Sloe Gin – 2007)
Sloe Gin (album Sloe Gin – 2007)
High Water Everywhere (album You And Me – 2006)
Your Funeral, My Trial (album You And Me – 2006)
Don't Burn Down That Bridge (album So, It's Like That – 2002)
Woke Up Dreaming (album Blues Deluxe – 2003)
Just Got Paid > Dazed and Confused (ZZ Top cover > Led Zeppelin cover)

Encore 1

One Of These Days (album Sloe Gin – 2007)
Asking Around For You (album Sloe Gin – 2007)

Encore 2

Ballpeen Hammer (album Sloe Gin – 2007)
A New Day Yesterday (album A New Day Yesterday – 2000)
Starship Trooper (Yes cover)
Line up: Joe Bonamassa (guitars & lead vocals), Carmine Rojas (bass), Bogie Bowles (drums), Rick Melick (keyboards).
Percutant, technique, très subtil et jamais lourd à écouter. Vraiment bien. Un excellent concert, je reviendrai le voir !
Articles en rapport: