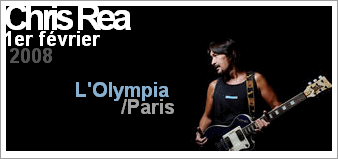 Je suis allé au concert de Chris Rea à l'Olympia.
Je me suis un peu perdu en m'y rendant : d'habitude j'y arrive en métro ou en voiture, là j'y suis allé en RER (St Lazare) et je me suis retrouvé à marcher quasiment une borne ! Bon.
Une fois là-bas, une hôtesse me place au 3ème rang, désaxé sur la gauche. Pas idéal mais je voyais très bien Chris et sa guitare, donc l'essentiel !
20h30 – le concert commence. Pas de paroles, juste des morceaux instrumentaux. Je ne me suis jamais autant ennuyé dans un concert que dans cette partie : les morceaux n'avaient pas vraiment de relief particulier, dans le style guitare hawaïenne des Shadows… J'ai trouvé cela assez insupportable.
21h10 – pur moment de blues avec un solo vraiment pas à piquer des vers. Le genre de morceau que l'on peut jouer en toute occasion, pour un mariage comme pour un adieu. J'étais scotché.
A partir de ce moment, Chris a sauté à pieds joints dans le blues et là, je peux vous dire que la rangée de sièges a commencé à vibrer d'avant en arrière. Blues, rhythm'nblues, slide guitar… tout y est passé.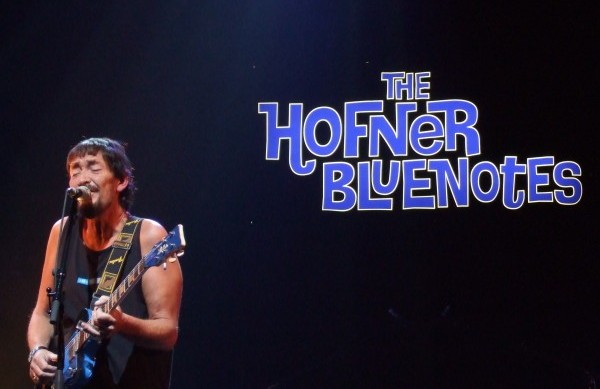 Là où j'ai vraiment pris mon pied, c'est lorsque Chris a commencé à chanter. Quelle voix extraordinaire !!! C'est une voix rauque mais puissante, à la basse hallucinante.
Et quand il pousse un peu, c'est vraiment énorme. Cela vous atteint directement au creux de l'estomac, comme un direct du gauche que l'on n'a pas vu venir.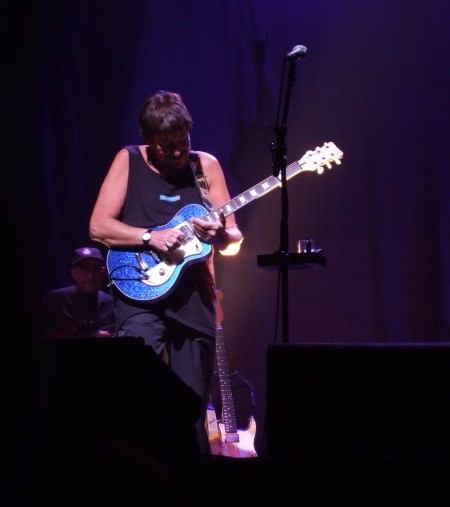 Le groupe se compose de Chris Rea (guitare et voix), Colin Hodgkinson (basse) qui nous a fait un super solo de basse groovy un moment donné, Neil Drinkwater (claviers), Martin Ditcham (batterie) et Robert Ahwai (guitare).
Pas de communication avec le public à part un bref "Bonsoir Paris", si ce n'est de taper dans ses mains.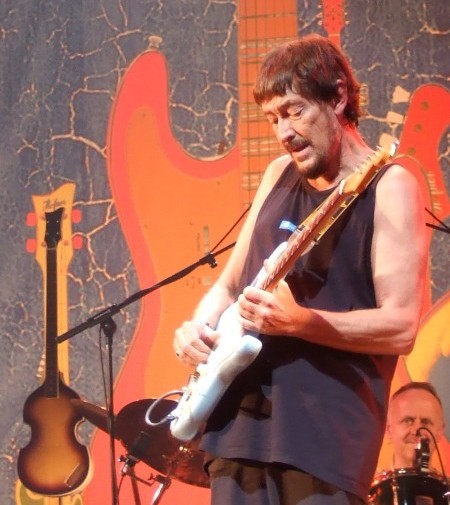 Crédit photos : Michel.
Setlist
Part I : THE DELMONTS
1 Dirty Old Town
2 008 Jimmy Bond
3 India Arab
4 Theme From The Pink Guitar
5 Russian Roulette
6 Black Wave Hero's
7 French Football
8 BB Was A Comanche
9 It's Behind You

Part II : THE HOFNER BLUENOTES
10 I Can't Wait For Love
11 Legacy Blue
12 Where The Blues Come From
13 Josephine
14 Easy Rider
15 Julia
16 Stony Road
17 Looking For The Summer
18 Shadow Of A Fool
19 Stainsby Girls
20 The Road To Hell (Parts I & II)

Encore
21 On The Beach
22 Let's Dance
Un bon concert de deux heures – dommage que je n'ai pas accroché sur la première partie.
Josephine a été jouée à la mandoline au banjo (excellente version) mais Auberge était absente du set.
Articles en rapport: