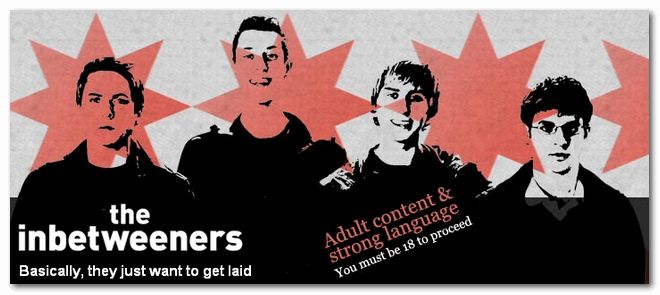 The Inbetweeners est la nouvelle série de la chaîne britannique E4 qui persiste et signe après l'excellente série Skins.
Nous suivons donc quatre adolescents d'une banlieue anglaise, qui vivent des amourettes, se bagarrent, se saoulent trop vite, s'imaginent sortir avec la fille d'à côté, racontent des histoires sur la sexualité de leurs amis…
Pour être plus précis, les parents de Will viennent de divorcer et il est forcé de changer d'école : il passe d'une école privée posh à une école publique où rien n'est acquis et où il doit se faire de nouveaux amis, ce qui n'est pas gagné d'avance ! Il rencontre alors Simon, Lee et Neil qui n'ont ni son flegme, ni son bagou.
Même si la série reste dans la thématique de l'adolescent au lycée, The Inbetweeners n'a rien à voir avec le côté sex, drugs & rock'n'roll de Skins.
L'histoire est plus simple : comment ne pas se faire harceler à l'école, ne pas se faire humilier devant des filles, ne pas se faire refouler au pub… bref, la survie au lycée !
Articles en rapport: