Samedi 14 février 2014, Cécile et moi avons assisté au concert de Terry Ilous, Jorge Salán, et Jeff Scott Soto au Ferrailleur de Nantes, avec le groupe LA Chords en première partie.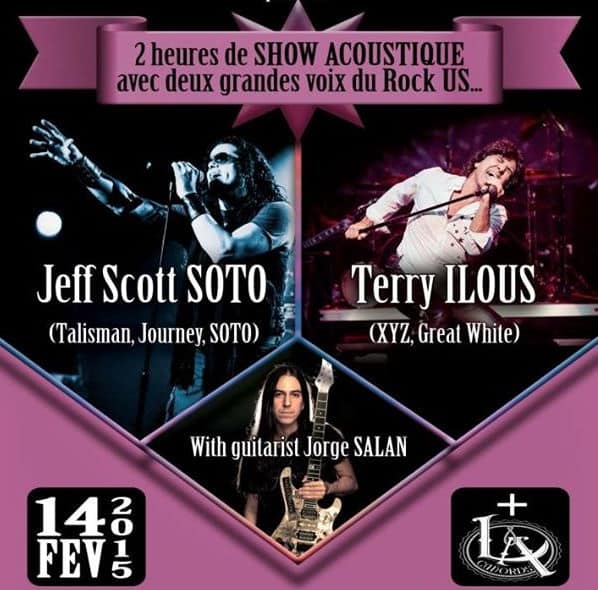 LA Chords
La première a été assurée par les LA Chords : Sébastien Ianotto au chant, Sébastien Naud à la guitare et chant et Yann Le Gars à la guitare.
Bon groupe avec des reprises acoustiques rock et hard-rock sympas : AC/DC, The Rolling Stones, The Guns'N'Roses… pas mal de classiques rock en fait. Ils ont joué une demi-heure à peu près.
Terry Ilous et Jorge Salán
Ensuite, sont apparus Terry Ilous et Jorge Salán. Pour la petite histoire, Terry Ilous est français – né à la Courneuve – et il est à l'origine du groupe XYZ mais aussi le chanteur de Great White… rien que ça !
Il est très bon communiquant avec le public et n'hésite pas à nous raconter quelques anecdotes, c'était vraiment sympa. Il a visiblement apprécié de pouvoir dialoguer en français, chose impossible aux Etats-Unis, où il rassemble des foules de plus de 45 000 personnes. Nous devions être à peu près 200 dans la salle, c'était plutôt intimiste pour lui :)
Au niveau de la voix, je n'ai pas été déçu : j'ai bien reconnu son timbre particulier et il a vraiment assuré. Aucun stress : on voit qu'il a l'habitude de tourner. Bon jeu de guitare également, tout acoustique.
La guitare de la soirée est sans aucun doute décernée à Jorge Salán, un formidable guitariste espagnol humble et discret, qui a joué avec Mägo de Oz et Jeff Scotto Soto (entres autres) et qui a assuré la partie avec Terry puis Jeff.
Jorge a un jeu vraiment génial et retranscrit tous les solos, bends et autres riffs sur ses guitares acoustiques. Un guitariste hors-pair.
Jeff Scott Soto et Jorge Salán
Après la partie de Terry, Jeff Scott Soto est entré en scène. Jeff Scott Soto, américain d'origine porto-ricaine, a chanté pour Journey, Talisman, Yngwie Malmsteen, Axel Rudi Pell et Trans-Siberian Orchestra… sacré palmarès aussi!
"Eyes of Love" de Jeff Scotto Soto :
"Mysterious" :
https://www.youtube.com/watch?v=k9BylOhiosI
"I'll Be Waiting" :
https://www.youtube.com/watch?v=15PfIwSDYrE
Terry les a ensuite rejoint pour reprendre "Purple Rain" de Prince:
Je mets la version de "Purple Rain" filmée à Madrid le jour précédent pour que vous puissiez voir Jorge jouer :
"Heaven and Hell":
PHA+PGlmcmFtZSBzdHlsZT0id2lkdGg6OTAwcHg7IGhlaWdodDo1MDZweDsgYm9yZGVyOm5vbmUiIGFsbG93ZnVsbHNjcmVlbiBzcmM9Imh0dHBzOi8vd3d3LnlvdXR1YmUtbm9jb29raWUuY29tL2VtYmVkL3dQTVZrVF92azA4P2l2X2xvYWRfcG9saWN5PTM7bW9kZXN0YnJhbmRpbmc9MTtzaG93aW5mbz0wO2ZzPTEiPjwvaWZyYW1lPjwvcD4=
"With a Little Help From my Friend":
PHA+PGlmcmFtZSBzdHlsZT0id2lkdGg6OTAwcHg7IGhlaWdodDo1MDZweDsgYm9yZGVyOm5vbmUiIGFsbG93ZnVsbHNjcmVlbiBzcmM9Imh0dHBzOi8vd3d3LnlvdXR1YmUtbm9jb29raWUuY29tL2VtYmVkL2ltR2pwRjhEanpzP2l2X2xvYWRfcG9saWN5PTM7bW9kZXN0YnJhbmRpbmc9MTtzaG93aW5mbz0wO2ZzPTEiPjwvaWZyYW1lPjwvcD4=
On a discuté avant le concert avec des gens qui n'avaient pas vu qu'il s'agissait d'un concert purement acoustique : effectivement, ils ont dû être déçus.
Note : pas de batteur du tout lors de ce concert : tout est géré par un iPad ! Niveau guitares, Jeff et Jorge ont tous les deux la même guitare électro-acoustique qui ne possède pas de corps : vu le design, je pense qu'il s'agit d'une Yamaha SLG110S Silent Guitar.
C'était un concert acoustique très sympa, à peu près 2h de show avec des titres de leurs groupes respectifs et des covers de grands classiques rock et hard-rock. De quoi passer une très bonne Saint Valentin !
Articles en rapport: