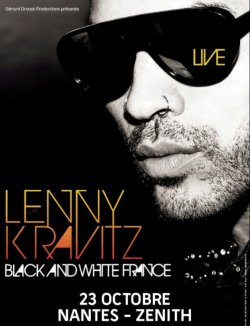 Dimanche 23 octobre, je suis allé voir Lenny Kravitz en concert au Zénith de Nantes, accompagné de Jack et Nicole.
On arrive un peu avant 19h et on nous place dans les gradins, au deuxième rang, un peu sur la gauche. Plutôt bien placés donc, la salle n'est qu'à demi-pleine.
(Ps : je persiste à dire que celui qui a inventé le modèle des sièges de gradins des Zénith (et des stades) doit être un descendant de tortionnaire de l'Inquisition.)
Première partie : Raphael Saadiq
Je ne connaissais qu'une chanson de lui. Le reste est insupportable.
Lenny Kravitz
45 minutes plus tard, soit vers 20h30, Lenny Kravitz entre en scène. La salle est pleine à craquer. Jolis effets de lumière, bon son et une bonne grosse dose de rock'n'roll.
Il a joué tous ses plus gros titres, avec finalement assez peu de morceaux du nouvel album Black and White America.
J'ai bien aimé les images projetées lors du morceau éponyme : que des photos de famille et on peut voir que sa mère était sublime quand elle était jeune.
Mention spéciale aux bottes au-dessus du jeans. Et Lenny, il danse cambré comme un poulet! ;-)
Avant le concert, j'avais en tête un cliché : je pensais que Lenny Kravitz était une rock star inaccessible, vivant un peu au-dessus de tout le monde.
Et bien en fait, pas du tout : il a sympatisé avec une petite fille dans le public à plusieurs reprises, lui a offert un t-shirt, l'a prise dans ses bras sur scène, est venu dans les gradins chanter aux côtés de son public…
Ambiance dans la fosse, attention ça bouge !
Lenny Kravitz était accompagné de Craig Ross à la guitare solo, Gail Ann Dorsey (ex-bassiste de David Bowie) à la basse, Franklin Vanderbilt Jr aux baguettes, Harold Todd au saxophone, Ludovic Louis à la trompette, Gabrial McNair (qui a joué pour No Doubt dans les années 90) au trombonne et George Laks aux claviers.
Au final, Lenny a joué à peu près 1h30 je pense. Le tour dans les gradins a bien duré 10 minutes et je crois qu'il a présenté et remercié le groupe pendant 15 minutes. Je n'ai jamais vu un artiste remercier son groupe comme il l'a fait.
C'était tout simplement impressionnant : il a présenté chaque membre du groupe, a dit comment il les avait rencontré, ce qu'il pensait d'eux. J'aurais bien aimé avoir une vidéo de son speech.
Je l'ai trouvé en forme : voix au top, excellente présence scénique, belle prestation. Je suis bien content de l'avoir vu :)
Setlist

Si mes souvenirs sont bons, voici les morceaux auxquels nous avons eu droit :

Come On Get It
Always on the Run
American Woman
It Ain't Over 'till it's over
Mr. Cab Driver
Black and White America
Fields of Joy
Stand By My Woman
Believe
Stand
Rock And Roll Is Dead
Rock Star City Life
Where Are We Runnin'
Fly Away
Are You Gonna Go My Way?

Encore

I Belong to You (acoustic)
Let Love Rule
Très bon concert dont voici quelques belles photos.
Articles en rapport: