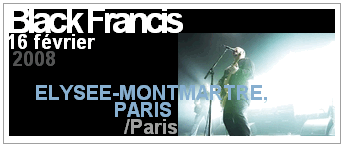 Samedi soir, je suis allé voir Black Francis (autrefois connu sous le nom de Frank Black, ex-leader des Pixies) en concert à l'Élysée Montmartre. Et, une fois n'est pas coutume, je dois dire que j'ai préféré la première partie au concert en lui-même, ce qui est plutôt inhabituel !
Première partie : Bobbie Peru
La première partie, assurée par Bobbie Peru, était vraiment pas mal. Au niveau du son, cela peut se classer entre les Pixies et les White Stripes. Le son était bon et les chansons plutôt catchy. Je pense qu'ils s'attendaient à ce que le public bouge un peu plus par contre. Ils ont joué 45 minutes à peu près. J'ai bien aimé.
Black Francis
J'avais déjà vu Black Francis en 2003, à l'époque où il tournait sous le nom Frank Black and the Catholics, et je dois dire que j'ai été déçu. Très déçu même. Pas un seul mot au public. Un concert d'une heure top chrono. Des chansons enchaînées directement, à la chaîne. Pas de rappel. Et il n'a joué que le dernier album il me semble. Je ne pensais pas qu'il était possible de faire pire qu'Air. Et bien si apparemment – c'est la dernière fois que je vais le voir. D'ailleurs, je ne suis pas le seul à penser cela, les gens étaient plutôt mécontents dans la fosse !!!
Bref, j'aurais mieux fait de rester couché à soigner ma grippe. Ou d'aller à la fête surprise d'Arnaud !
Articles en rapport: