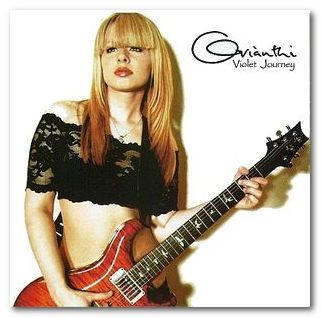 Cela fait longtemps que je ne vous avais pas proposé d'album à écouter… en voici un qui devrait vous plaire !
Violet Journey est le premier album d'Orianthi, une jeune prodige de la guitare de 23 ans née à Adelaïde, en Australie.
Pour la petite histoire, Orianthi a commencé à jouer à 6 ans, a ouvert la première partie de Steve Vai lorsqu'elle avait 14 ans et ZZ Top à 17 ans. Rien que ça !
Elle a ensuite rencontré et joué avec Carlos Santana et c'est à ce moment là que les choses s'accélèrent puisqu'elle signe avec un grand label américain – Geffen Records – s'installe vivre à Nashville et commence à écrire avec Darrell Brown (Keith Urban), Troy Verges (Leann Rimes) and Angelo (Kings of Leon).
L'album est tout simplement excellent, très varié.
And she's a babe too ! La voici qui joue sa chanson "Little Miss Lonely" lors de sa performance à la PRS Party NAMM 2007 :
Rrrrrr…. Rock'n'roll !
Tracklist de l'album Violet Journey (2005)
01. Lights of Manos
02. He's Gone
03. Violet Journey
04. Everyday
05. Here On Earth
06. Right Now
07. Anybody Else
08. Out Of Reach
09. Wouldn't Change A Thing
10. Believe
Articles en rapport: