Cette semaine, j'ai fini de corriger les expressions écrites sur l'usage des nouvelles technologies de mes chers secondes.
Grosso modo, ils ont bien joué le jeu et ont parlé de l'importance de la vie privée, des dangers de trop dévoiler sa vie sur les réseaux sociaux à titre personnel (harcèlement, moqueries) et professionnel (recruteurs qui scrutent vos profils), de l'importance des écrans dans nos vies…
Mon tas de copie descend gentiment lorsque tout à coup, une petite perle. Comme les copies ne sont pas anonymes, il est très facile de savoir à quoi s'attendre avec certain(e)s élèves et, lorsque je me saisis de la feuille, je me délecte déjà de ce que je vais bien pouvoir y lire.
Et ce serait un euphémisme de vous dire que je n'ai pas été déçu. Je vous livre la fin de sa lettre sur l'importance des écrans dans nos vies: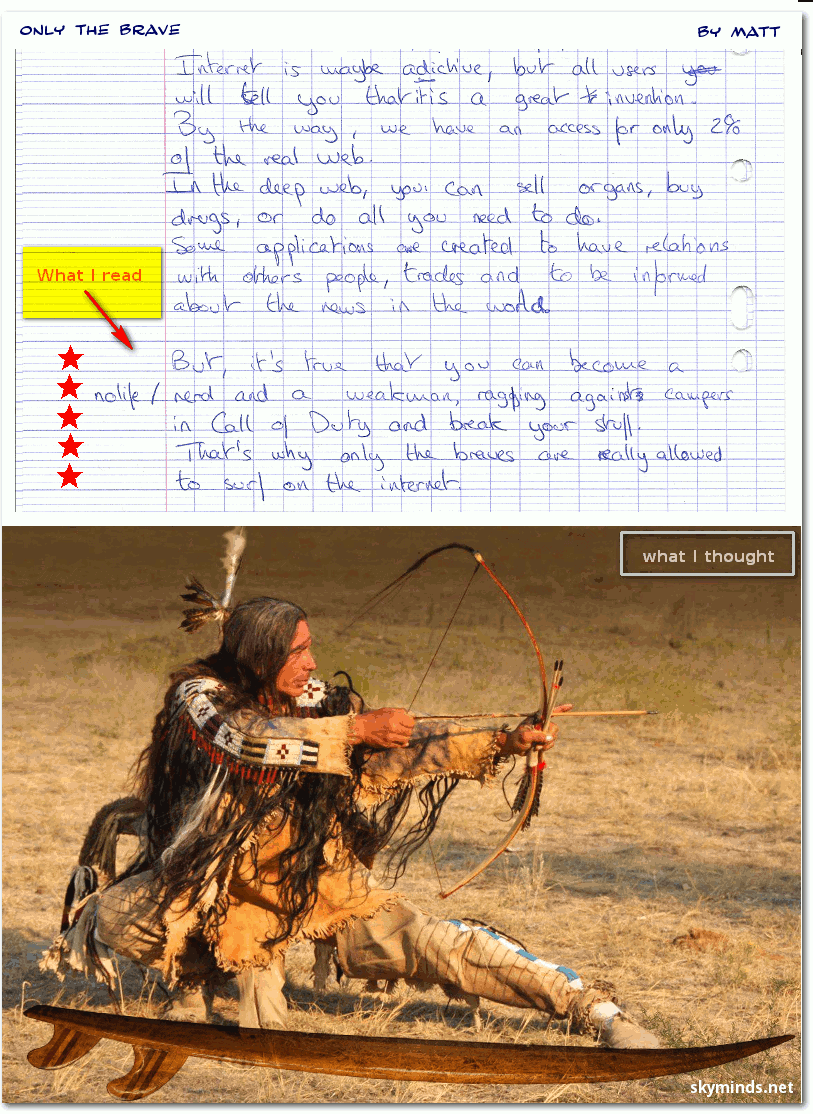 Mon élève est donc plutôt gamer et semble avoir une bonne connaissance de ce qu'est Internet (ce qui, soit dit en passant, n'est pas vraiment le cas de tous les élèves, du moins en seconde).
J'aime beaucoup la manière dont il conclut sa lettre :
[quote class="center"]That's why only the brave are really allowed to surf on the Internet.[/quote]
C'est totalement inattendu, décalé et cela me fait bien rire. J'ai donc immédiatement pensé à une tribu d'amérindiens, unique catégorie de personnes autorisée à surfer sur le web.
Excellent!
Articles en rapport: