Richard Wright, l'un des membres fondateurs de Pink Floyd et claviériste du groupe, est décédé lundi à l'âge de 65 ans, à la suite d'un cancer.
Né à Londres le 28 juillet 1943, il avait rencontré Roger Waters et Nick Mason sur les bancs de l'école d'architecture et avait rejoint leur groupe de l'époque, Sigma 6, rebaptisé par la suite Pink Floyd en 1965.
And with these words I can see
Clear through the clouds that covered me
Just give it time then speak my name
Now we can hear ourselves again…

– Wearing The Inside Out –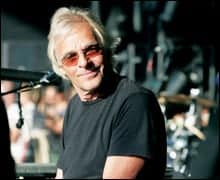 Il avait composé et chanté sur plusieurs albums du groupe comme Dark Side of the Moon et Wish You Were Here.
Il avait réalisé son premier album en solo, Wet Dream en 1978 puis quitté Pink Floyd juste après l'enregistrement de l'album The Wall, en 1979, à cause de ses relations houleuses avec Roger Waters mais avait continué à jouer sur scène avec le groupe en 1980 et 1981.
Depuis la séparation du groupe, il était resté fidèle au guitariste David Gilmour qu'il accompagnait en tournée. Il avait également retrouvé Pink Floyd pour un concert l'an dernier en hommage à Syd Barrett, décédé en 2006.
Shine on you crazy diamond.
Articles en rapport: