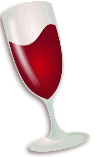 Je rentre de vacances et machinalement, je vérifie que mon système est à jour. Des mises à jour plus ou moins importantes existent, je valide et paf! voici que Wine ne se lance plus… Plus moyen de lancer mes quelques programmes Windows, la galère commence.
Après quelques minutes de recherche sur internet, je me rends compte que ce problème touche pas mal de gens. Il apparaît lors d'une mise à jour incomplète la plupart du temps. Je vous propose ma solution qui, loin d'être élégante, vous évitera quand même de réinstaller tous vos programmes Windows sous Wine.
Mise à jour de Wine
Installez la dernière version de Wine.
Lancer wincfg
Ouvrez le terminal et tapez cette commande :
winecfg
Si vous obtenez une erreur de ce style :
wine client error:0: version mismatch 387/388.
Your wineserver binary was not upgraded correctly,
or you have an older one somewhere in your PATH.
Or maybe the wrong wineserver is still running?
c'est que vous avez un problème avec le répertoire /.wine qui se trouve dans votre répertoire utilisateur ou que le serveur Wine a besoin d'être relancé.
Solution 1 : relancer Wine
La solution la plus simple consiste à rebooter la machine. Vous pouvez aussi "tuer" tous les processus Wine actifs en mémoire en allant dans Système > Administration > Moniteur Système > Processus et en terminant tous les processus concernant wine, comme ceci :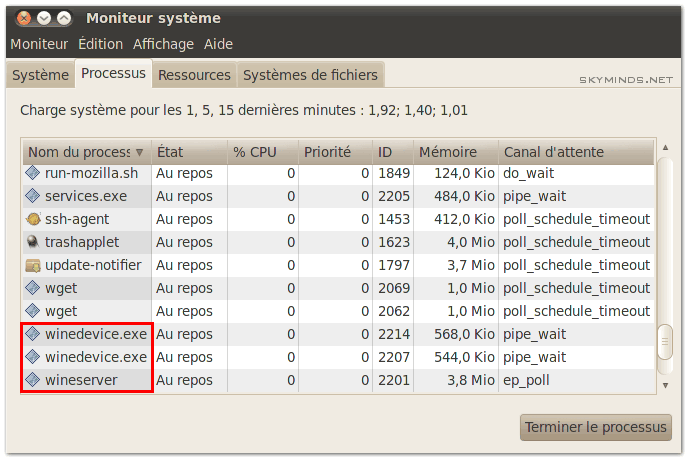 Relancez votre application wine – tout devrait fonctionner comme prévu.
Solution 2 : recréer le dossier /.wine
Voici une seconde solution si la première n'a pas fonctionné. Cette méthode est un peu plus barbare :
renommez votre répertoire /home/USER/.wine en /home/matt/.wine_bak
dans le terminal, lancer wincfg :

winecfg

une fenêtre Wine s'ouvre, cliquez sur OK pour la refermer. Un nouveau dossier /home/USER/.wine est créé.
copiez tous les fichiers de /home/matt/.wine_bak à l'exception du fichier caché .update-timestamp et collez-les dans le nouveau /home/USER/.wine.
voilà !
Vous devriez pouvoir lancer vos applications Wine comme avant. Cela a fonctionné pour moi et m'a évité de réinstaller mes applications, à l'inverse des autres méthodes trouvées sur le net.
Article mis à jour le 16 juillet 2010 : ajout de la solution numéro 1, beaucoup plus soft.
Vous souhaitez réaliser un nouveau projet WordPress ou WooCommerce, ajouter de nouvelles fonctionnalités, ou améliorer les performances de votre site?
Articles en rapport: