Ray Bradbury, écrivain américain de science-fiction, est mort hier dans sa maison de Los Angeles à l'âge de 91 ans.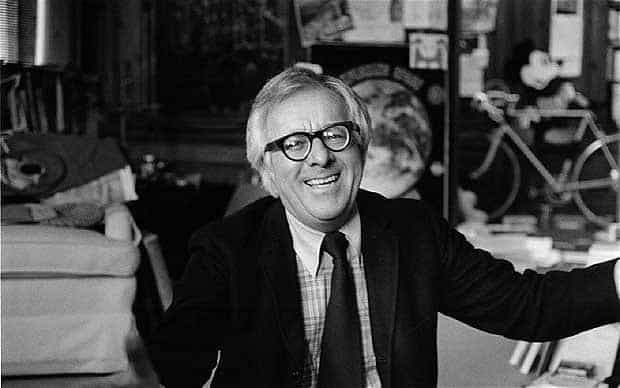 Né le 22 août 1920 à Waukegan (Illinois, USA), Raymond Douglas Bradbury découvre la littérature à l'âge de 7 ans avec Edgar Poe. Fils d'un père technicien et d'une mère d'origine suédoise, il a 14 ans lorsque ses parents s'installent à Los Angeles. Il a 17 ans lorsque sa première nouvelle, Script, est publiée.
Son oeuvre
Son oeuvre révélait un auteur inquiet de la survie spirituelle de l'humanité face au matérialisme de la société.
Fahrenheit 451 (1953), adapté au cinéma en 1966 par François Truffaut et inspiré par les autodafés nazis de livres écrits par des juifs, évoquait les dangers de la censure et du contrôle des idées dans un monde totalitaire. Il s'inscrit dans la lignée des romans dystopiques, décrivant des sociétés où un pouvoir central autoritaire opprime tout ou partie de ses citoyens, comme Brave New World (Le meilleur des mondes) d'Aldous Huxley ou 1984 de George Orwell.
Auteur prolifique (cinq cents nouvelles, une trentaine de romans, des contes, des poèmes), Ray Bradbury a aussi écrit de nombreuses pièces de théâtre et des scénarios pour le cinéma et la télévision, notamment The Twilight Zone ("La 4e dimension"). Ray Bradbury a vendu plus de huit millions d'exemplaires de ses livres, qui ont été traduits en 36 langues.
PHA+PGlmcmFtZSBzdHlsZT0id2lkdGg6OTAwcHg7IGhlaWdodDo1MDZweDsgYm9yZGVyOm5vbmUiIGFsbG93ZnVsbHNjcmVlbiBzcmM9Imh0dHBzOi8vd3d3LnlvdXR1YmUtbm9jb29raWUuY29tL2VtYmVkL0V6RDBZdGJWaUNzP2l2X2xvYWRfcG9saWN5PTM7bW9kZXN0YnJhbmRpbmc9MTtzaG93aW5mbz0wO2ZzPTEiPjwvaWZyYW1lPjwvcD4=
"La chose la plus amusante dans ma vie, c'était de me réveiller chaque matin et de courir jusqu'à la machine à écrire parce que j'avais eu une nouvelle idée", se réjouissait-il en 2000.
Petit, j'avais particulièrement aimé la nouvelle The Sound of Thunder dans laquelle il définit le concept de l'effet papillon.
RIP Ray.
Articles en rapport: