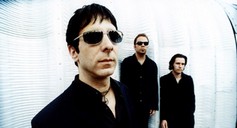 Concert de Mercury Rev hier soir à Nantes : mythique ! Et je pèse mes mots. Je classe ce concert dans mon Top 5 des meilleurs, à côté de celui de Page et Plant.
Il est rare de voir un groupe aussi bien jouer ensemble : c'était plus que de l'harmonie, cela frisait la symbiose fusionnelle.
Au niveau musical, j'ai été surpris de voir que toutes les nuances présentes sur les albums ont été respectées tout en ajoutant le petit quelque chose de plus qui fait que l'on ne se retrouve pas avec un concert similaire à l'album mais à une véritable représentation.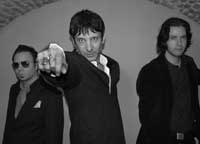 Les musiciens ont joué comme des prodiges – je salue ici la performance du bassiste et du batteur dont les performances m'ont littéralement scotché à mon siège : le bassiste (Dave Fridmann), avec son look entre disco et heavy-métal, nous a ravi de licks énormes tout au long du concert et le batteur (Jeff Mercel), d'une pêche incroyable, s'est même mis debout pour taper plus fort au milieu du concert. Tout simplement phénoménal.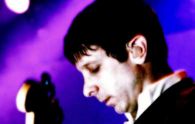 Au niveau scénique, une bande vidéo a défilé tout le long du concert, projetant des images et des citations de grands auteurs (Sartre, Gide, Krishnamurti, William Blake, Edith Warton, Yoda, Lao Tseu, Jonathan Levingstone the Seagull…), ce qui a ajouté quelque chose de plus au concert.
Le mélange audio et vidéo a en quelque sorte donné plus de sens à la musique et nous a offert quelques jolies pistes de réflexion sur la vie et le contact avec l'autre.
Le chanteur, Jonathan Donahue, habillé en dandy dans la plus pure tradition britannique, a mené son groupe de main de maître, lâchant à plusieurs reprises sa guitare pour diriger son groupe à la manière d'un chef d'orchestre, dos au public, s'adressant au clavier et au guitariste, connu sous le nom de Grasshopper et qui ressemble un peu à Elvis dans sa manière de saluer le public avec ses deux doigts pointés en avant, tel un pistolero.
Mercury Rev nous a joué pas mal de morceaux de l'album Deserter's Songs et du petit dernier The Secret Migration et nous a offert deux magnifiques rappels pour conclure sur Goddess on a Highway, l'un de leurs titres les plus rocks.
Le public ne s'y est pas d'ailleurs trompé puisqu'il y a eu trois standing ovations et plusieurs minutes d'applaudissements.
J'ai découvert Mercury Rev en Autralie en 1999 et je suis vraiment heureux d'avoir pu assister à ce concert hier soir.
Si jamais vous avez l'occasion de les voir en concert, n'hésitez pas et foncez. Vous ne le regretterez pas ! ^_^
Articles en rapport: