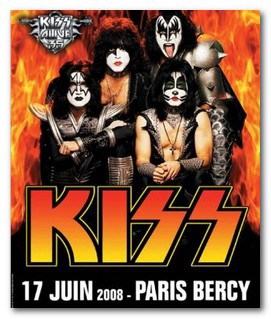 Mardi soir, je suis allé voir KISS en concert au Palais Omnisports de Paris-Bercy (POPB).
Je monte les marches de la pyramide, tend mon ticket au gros costaud. "Monsieur vous descendez, vous faîtes le tour et vous prenez l'entrée 27".
Ah, bon, okay. Je fais le tour : il y une queue de tous les diables ! Je parcours toute la file pour me mettre en bout, soit environ 900m. Argh !
J'ai eu le temps apprécier les maquillages des fans : pas à dire, c'est du boulot d'être fan. Bonne ambiance dans la file. J'ai encore mon pull qui sent la bière.
Première partie : Cinder Road
Lorsque j'arrive dans la fosse, le groupe Cinder Road est déjà en train de jouer. C'est pas mal, très rock avec plusieurs guitares et le chanteur est bien dans le ton.
J'ai trouvé que c'était une excellente première partie et pour une fois, le groupe ne s'est pas fait huer, comme c'est souvent le cas dans les concerts de hard/metal.
KISS
Il est presque 21 h le concert va commencer. Le rideau KISS descend alors que le pont de Won't Get Fooled Again des Who monte en puissance. A
u moment où le fameux Yeaaaaah retentit, blackout des lumières, une voix grave annonce :
YOU WANTED THE BEST, YOU GOT THE BEST ! THE HOTTEST BAND IN THE WORLD … KISS !!
Blam! Grand coup de pétard. Le rideau tombe et les membres du groupe descendent sur une plateforme mobile. Vraiment énorme cette entrée, même si le coup de pétard m'a bien surpris !
Gene Simmons et Paul Stanley sont les deux seuls rescapés de la formation d'origine, accompagnés du batteur Eric Singer (qui joue aussi avec Alice Cooper) et du guitariste Tommy Thayer.
Tous portent leurs énormes platform boots, maquillés jusqu'aux ongles. Les super-héros du hard-rock sont là, bien là et ils veulent nous le prouver.
Le son était bon, le light show absolument énorme. Le 14 juillet à côté passe pour une fête champêtre. J'ai regretté la faiblesse de la voix de Paul Stanley : il semble souffrir des mêmes symptômes que Brian Johnson, le chanteur d'AC/DC.
A force de trop pousser dans les aigus, leur voix s'éteint peu à peu.
Le bassiste Gene Simmons a tiré sa langue de 17 centimètres toutes les 15 secondes et je me demande bien comment il peut faire cela sans finir par se décrocher la mâchoire. Vraiment.
Gene Simmons – I Love It Loud
Au niveau du jeu, j'ai été déçu. Tous les hits ont été enchaînés de manière plutôt lente et pas mal de solos et licks ont été repiqués à d'autres groupes.
Par exemple, le bridge de Won't Get Fooled Again des Who, le solo de All Right Now de Free, le jeu voix-guitare propre à Page/Plant, l'accompagnement du public avec la guitare d'Angus Young… je ne sais s'il faut y voir un hommage ou un pompage.
Le jeu de batterie était excellent, Eric Singer assure vraiment. J'ai trouvé la guitare faible. Je m'attendais à mieux et j'ai bien regretté l'absence d'Ace Frehley. Joli show de plus de deux heures mais il manquait pour moi un petit quelque chose.
Setlist
01. Deuce
02. Strutter
03. Got To Choose
04. Hotter Than Hell
05. Firehouse
06. Nothin' To Lose
07. C'mon & Love Me
08. Parasite
09. She + Tommy Thayer solo
10. Watchin' You
11. Rock Bottom
12. 100.000 Years + Eric Singer solo
13. Cold Gin
14. Let Me Go, Rock & Roll
15. Black Diamond
16. Rock and Roll All Nite
——————-
17. Shout It Out Loud
18. Lick It Up / Won't Get Fooled Again
19. Gene solo + I Love It Loud
20. I Was Made For Lovin' You
21. Love Gun
22. Detroit Rock City
Articles en rapport: