Voici la septième journée de l'US Summer Trip.
C'est aujourd'hui que nous quittons San Francisco. Paquetage de valises qui, curieusement, ont de plus en plus de mal à se fermer (la faute aux magasins de Fisherman's Wharf !).
A la réception de l'hôtel, le réceptionniste est plutôt rigolo :
R : Why are you leaving so soon ?
M : We've got places to go and things to see !
R : Where are you going ?
M : To Las Vegas man.
R : What are you going to do in Las Vegas ?
M : Spend what's left of our money ! ;-)
C'est la même navette qu'à l'aller qui vient nous chercher à l'hôtel pour nous conduire à l'aéroport, où nous tombons sur une carte de la Silicon Valley avec tous les grands noms des entreprises informatiques. Il n'y a pas à dire, elles sont toutes ici !
Nous voyageons avec US Airways ce coup-ci. Voici quelques photos prises de l'avion à différents intervalles, histoire de voir comme le paysage change :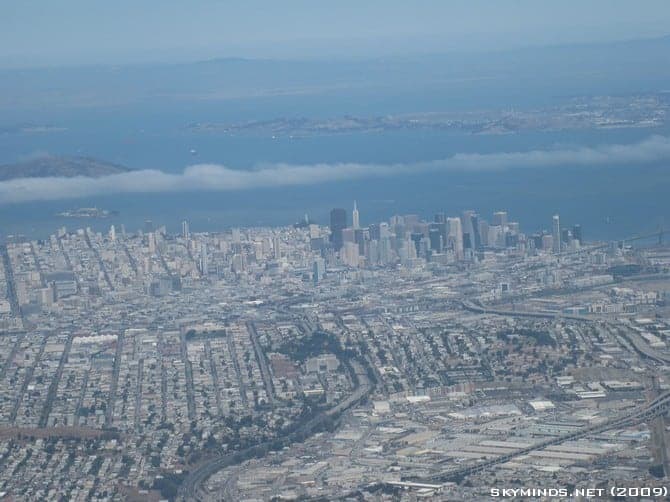 Quelques heures plus tard, nous arrivons à Las Vegas.
Las Vegas
Quand vous arrivez à l'aéroport de Las Vegas – Las Vegas McCarran Airport (LAS) – il y a une chose qui vous saute littéralement aux yeux : l'aéroport possède ses propres machines à sous !!! This is Vegas baby !
Notre hôtel ne se trouve pas sur le Strip mais Downtown, ce qui rallonge la course du taxi. Concrètement, l'autoroute (la plus embouteillée avec New York) longe le Strip et on peut voir les grands hôtels. Même de loin, c'est impressionnant.
Las Vegas McCarran Airport :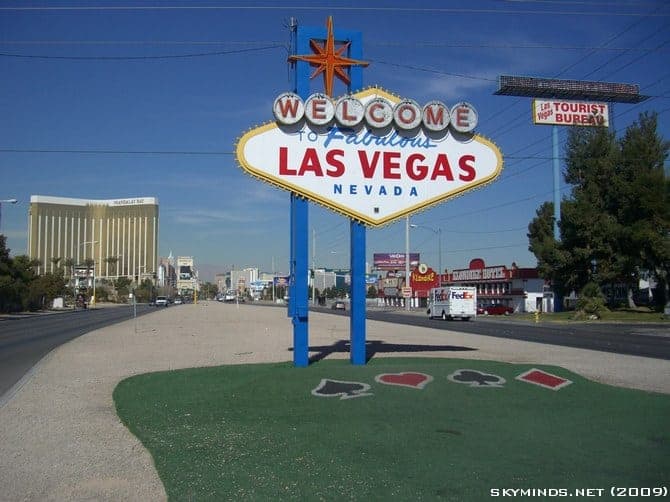 The Plaza
Nous arrivons à l'hôtel : The Plaza, illuminé de milliers d'ampoules qui dégagent une chaleur infernale. J'y reviendrai plus tard. On dépose nos bagages dans nos chambres et nous faisons un petit tour dans l'hôtel.
Le rez de chaussée est intégralement occupé par des machines à sous, des tables de poker, blackjack… c'est très impressionnant de voir tout cet espace occupé par des jeux.
Fremont Street
Nous sortons de l'hôtel : une chape de chaleur s'abat sur nous. L'air est sec et très chaud. Nous marchons dans Fremont Street et commençons à marcher sur le Strip. On se rend vite compte que nous n'en verrons pas le bout, surtout à pied et par cette chaleur.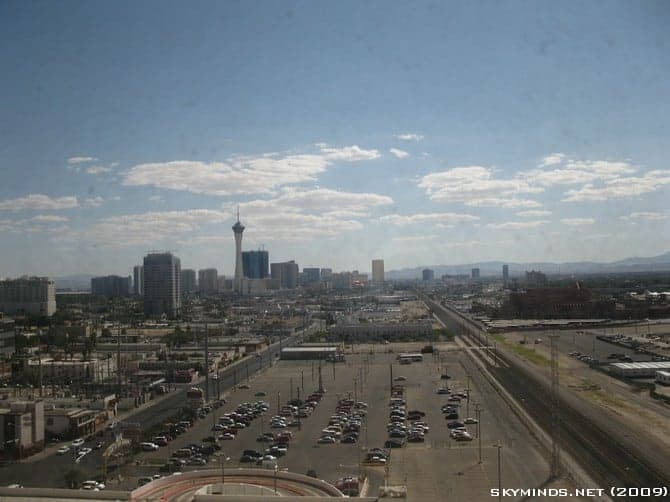 The Strip
L'idée du siècle : prendre le Deuce, un bus touristique qui fait tout le Strip en s'arrêtant à tous les plus grands hôtels. Il faut savoir que chaque hôtel a sa spécialité et chacun rivalise avec son voisin pour attirer des clients.
La démesure est clairement au rendez-vous :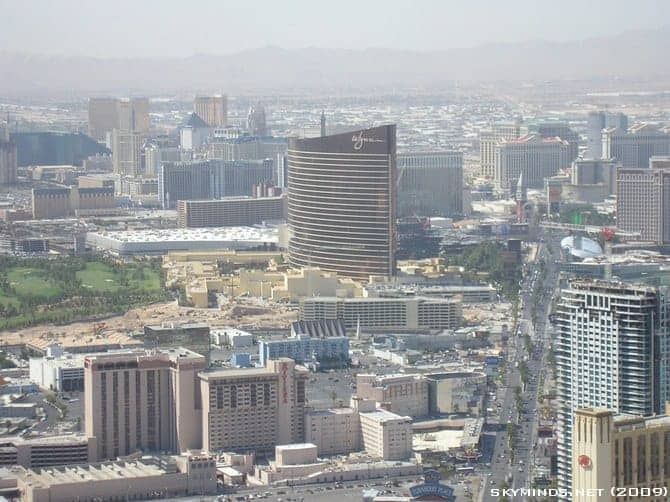 Je vous recommande de prendre le Deuce pour vous déplacer sur le Strip, le ticket vaut 7$ pour la journée et c'est vraiment un bon moyen de se déplacer entre les différents hôtels pour voir ce qu'ils offrent.
Chaque hôtel a sa spécialité: le Bellagio et ses fontaines colorées, Caesar's Palace et ses colonnes romaines, Excalibur et ses tourelles tout droit issues de chez Mickey, le Mirage et son oasis, le Paris et sa Tour Eiffel, le New York et ses buildings ou encore le magnifique Mandalay Bay.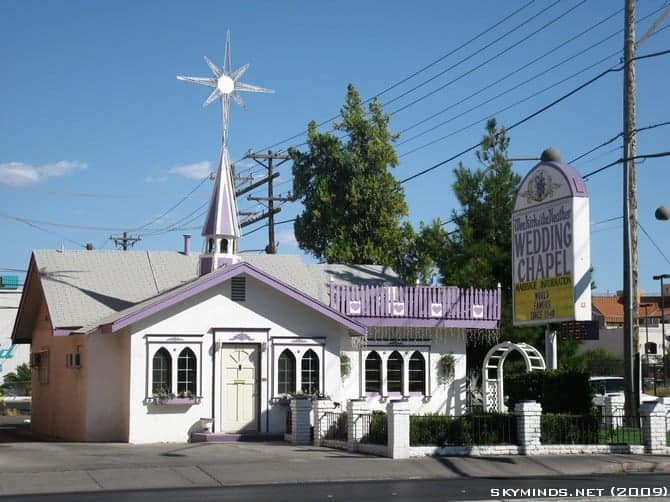 J'ai bien aimé les fontaines du Bellagio et le style romain de Caesar's Palace, on se croirait un peu dans Astérix, c'est plutôt rigolo.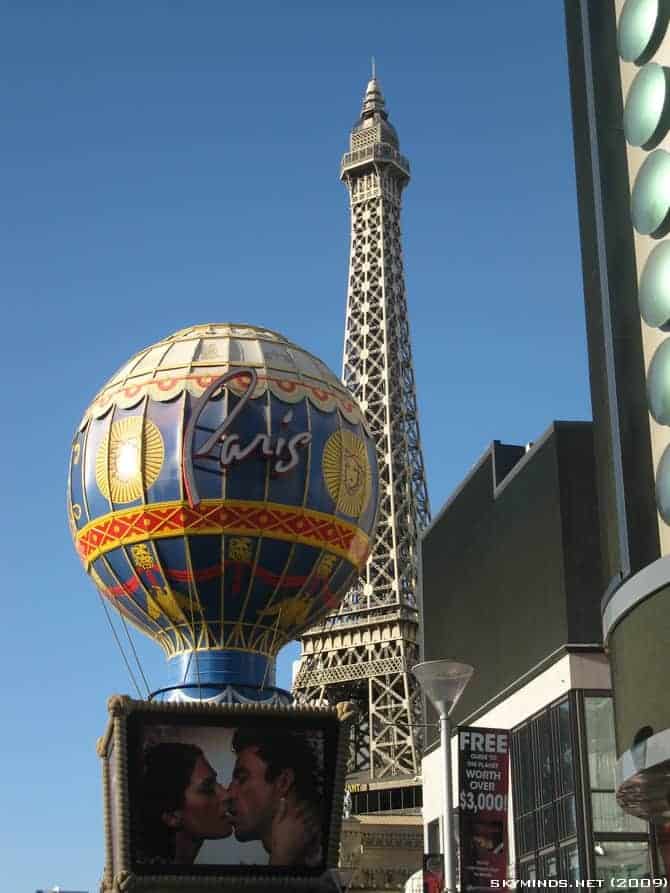 Amateurs de margaritas, nous sommes allés à Margaritaville mais j'avoue ne pas bien avoir saisi le concept : contrairement à n'importe échoppe, personne ne vient vous servir ou vous demander ce que vous voulez boire.
C'est vraiment bruyant et lorsqu'un sirène retentit, une fille à moitié dénudée court dans tout les sens avant de plonger dans une sorte de toboggan. C'est… spécial !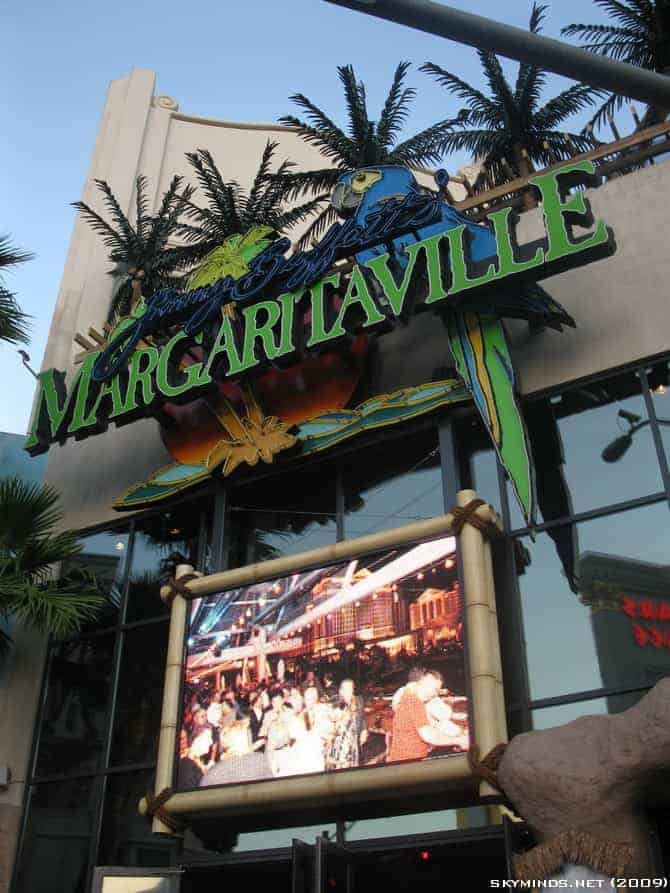 Mention spéciale à la dernière image, prise à travers la vitre teintée du bus (teintée et filtrée afin d'éviter de transformer ce dernier en four avec la chaleur du désert): sur le t-shirt de l'homme-sandwich, on peut lire "Girls direct to you in 20 minutes". Only in Vegas!
Night out
Nous avons passé la soirée à trainer dans Fremont Street qui est pour moi ce qui représente le plus Las Vegas : une rue piétonne avec des tonnes de gens qui passent de casino en casino en faisant la fête et un spectacle son et lumière qui célébrait alors les 40 ans de Woodstock avec concerts gratuits aux quatre coins de la rue.
Et je peux vous dire que les groupes assurent à Vegas, ce ne sont pas des petits groupes de quartier qui viennent y jouer !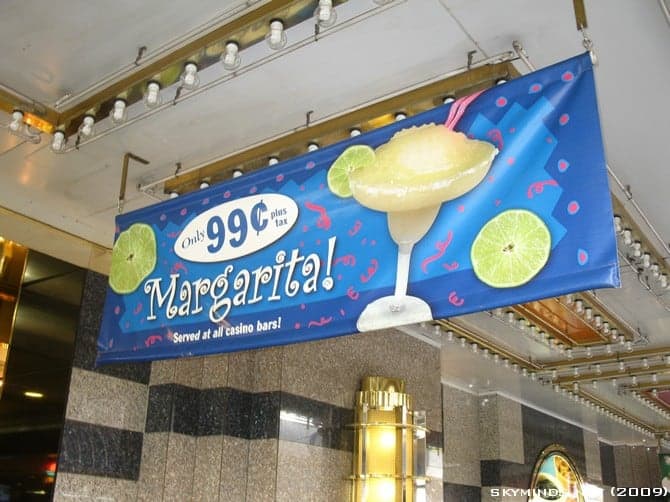 Restaurant italien au Golden Nugget. Pas mal. A peu près en face, on trouve des margaritas à 0.99$.
Le top du top ? Siroter une margarita en flânant dans Fremont Street !
Articles en rapport: