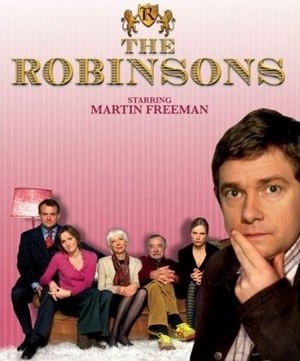 Voici une petite série britannique qui m'a bien fait sourire : The Robinsons nous fait découvrir l'univers de la famille Robinson avec ses membres complètement atypiques, voire totalement déjantés.
C'est l'occasion de retrouver Martin Freeman – qui avait précédemment joué dans The Office – qui tient le rôle d'Ed Robinson, qui vient de se faire licencier par la femme, nouvellement promue comme son patron, avec laquelle il sortait…
Alors qu'Ed se demande ce qu'il va bien pouvoir faire de sa vie, les membres de sa famille font preuve de comportements absolument délirants et riches en rebondissements pour la série.
Sa soeur Victoria (Abigail Cruttenden) est une décoratrice d'intérieur obsessive qui hurle dès qu'elle couche avec un homme qui lui rappelle son père.
Son frère George (Hugh Bonneville) est un consultant expert en gestion du temps d'entreprise qui essaie de contrôler tout ce qui se passe autour de lui et ses parents (Anna Massey et Richard Johnson) se haïssent depuis des années !
Une bonne petite série (seulement 6 épisodes) : Martin Freeman nous dévoile une fois de plus son talent d'acteur, l'accent brittannique est délicieux et les traits de caractère des personnages très bien sentis.
As usual, je vous conseille les épisodes en version originale.
Articles en rapport: