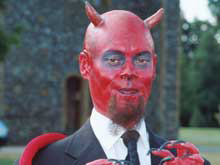 Big Train est une série de sketchs complètement surréalistes, joués par certains des meilleurs acteurs comiques dont Simon Pegg (Shaun of the Dead, Spaced, Hot Fuzz), Julia Davis (Nighty Night, Human Remains) et Catherine Tate (The Catherine Tate Show; Wild West).
Quelques thèmes sont récurrents comme la vie professionnelle au bureau, la chirurgie et une fixation sur les jockeys.
La série déforme toutes les situations courantes en d'improbables scénarios tous les plus drôles les uns que les autres comme par exemple les avantages et les inconvénients d'avoir des mains immenses alors qu'aujourd'hui tout est à la micro-technologie…
Je dois dire que Simon Pegg est absolument génial dans cette série. Il fait partie de la même veine que Martin Freeman (avec qui il joue d'ailleurs dans Hot Fuzz).
Nous avions parlé de Big Train avec ce sketch qui reflète bien l'esprit de la série.
Articles en rapport: