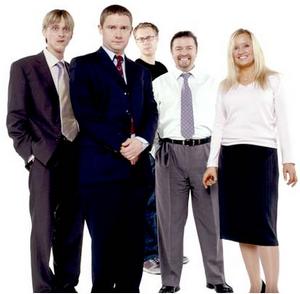 The Office met en scène le quotidien des employés de bureau d'une usine de fabrication de papier à Slough, en Angleterre .
Le responsable de ces employés, David Brent (Ricky Gervais), pense être le "patron" idéal, passant son temps à essayer de faire rire ses employés, ce qui solde souvent par des chutes désâstreuses et beaucoup d'embarras.
Les travers du personnages de Brent sont utilisés pour leur effet comique, allant des gaffes au sexisme et autres faux-pas sociaux. Il est assisté de Gareth Keenan (Mackenzie Crook), un ex-lieutenant dans l'armée territoriale et de Tim Canterbury (Martin Freeman), dont la relation avec la réceptionniste Dawn Tinsley (Lucy Davis) est un tournant majeur dans la série.
Pas de rires enregistrés mais une manière de filmer type documentaire, insistant sur les regards et les expressions du visage.
Brent est drôle mais je crois que les réflexions exaspérées de Tim – face à un travail qui ne le motive pas – le sont encore plus. Gareth ajoute une touche de folie supplémentaire, avec son expérience militaire et sa tête de gars qui n'a pas dormi depuis deux semaines.
La chanson du générique, Handbags and Gladrags, est arrangée par Big George mais fut originellement écrite dans les années 1960 par Mike D'Abo, ancien chanteur du groupe Manfred Mann.
As usual, je vous conseille les épisodes en version originale.
Articles en rapport: