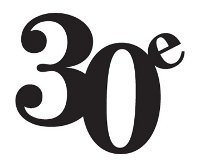 Il fallait bien que ça arrive un jour : je viens de quitter la deuxième décennie pour entamer la troisième !
Bon, pour l'instant cela ne me fait trop rien mais j'ai l'impression de rattraper d'un coup des gens que je considérais comme beaucoup plus âgés que moi jusqu'à hier…
Dans ma tête, je vois ça comme un virage à droite. La vingtaine, c'était une route droite qui montait. La trentaine, c'est une bifurcation à droite.
Bizarre non ? Mais je suis peut-être influencé par mes lectures :
I was thirty. Before me stretched the portentous, menacing road of a new decade.
— The Great Gatsby, Francis Scott Fitzgerald
Le nombre 30 en mathématiques
C'est la somme des carrés des entiers 1, 2, 3 et 4 (1²+2²+3²+4²=30) , ce qui en fait un nombre pyramidal carré. C'est aussi le premier nombre sphénique : un entier strictement positif qui est le produit de trois facteurs premiers distincts (2 x 3 x 5 = 30).
Trivia sur le nombre 30
Trente est :
le numéro atomique du zinc, un métal de transition.
le nombre de lunes de la planète Saturne.
le nombre de morceaux de l'album 30 des Beatles, généralement connu sous le nom "l'album blanc".
Articles en rapport: