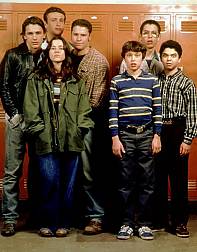 Je vais parler un peu "séries" aujourd'hui. Je regarde très peu les séries télévisées parce ce qu'elles finissent, pour la plupart, par se répéter ou se finir en queue de poisson, avec une fin compètement téléphonée.
Bon d'accord, j'ai quand même quelques séries dont j'ai du mal à me passer : 24, Desperate Housewives, Starsky et Hutch…
Non, oubliez le dernier, celui-là c'était quand j'étais gosse ;-).
J'aime donc les "bonnes" séries, celles qui me procurent des émotions : rire (le propre de l'homme), compassion…
Freaks and Geeks
Et je viens d'en trouver une nouvelle, Freaks and Geeks, qui raconte les histoires d'une bande de lycéens dans un lycée américain tout ce qu'il y a de plus banal, au début des années 1980.
La série est bien jouée mais le top ce sont les dialogues : j'ai vu la saison complète en anglais et le scénario est vraiment génial.
Cela tourne autour des copains, de la musique (concert des Who, décès de John Bonham, la période punk…), des relations parents-enfants, des relations entre les élèves qui sont classés en deux catégories principales : les freaks (les rebelles qui ne bossent pas, fument, sèchent les cours… les gens populaires) et les geeks (genre matheux du premier rang, sans aucune vie sociale, mal intégrés à la vie du collège/lycée).
Le ton est donc plutôt réaliste mais drôle : il y a même des scènes que tout le monde a vécu dans sa vie et c'est assez amusant de revoir cela sous un autre angle.
La série compte seulement 18 épisodes et a été abandonnée par la chaîne NBC alors que plus de 25 millions de personnes la plébiscitaient chaque semaine… quel dommage !
Articles en rapport: