Black Mirror, la série dystopique de Charlie Brooker, revient pour une seconde saison sur Channel 4.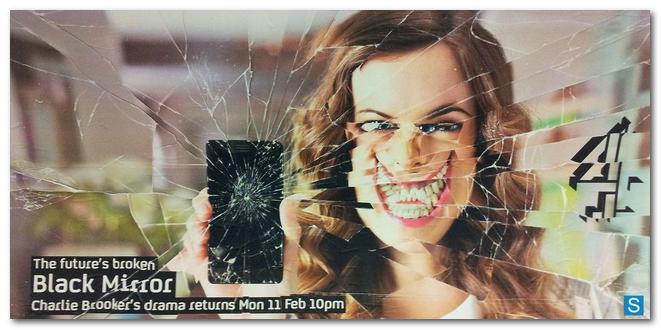 Comme d'habitude, la saison ne comporte que 3 épisodes – qui évoquent chacun une vision jusque-boutiste d'un futur qui pourrait devenir réalité si l'on en juge par nos dernières avancées technologiques et certains de nos reculs sociaux.
La technologie semble toujours évoluer et l'homme toujours régresser, on dirait.
Episode 1 : Be Right Back
Martha et Ash ont déménagés dans la maison de campagne où les parents de Ash vivaient. Ash est un grand utilisateur des réseaux sociaux, un peu trop pour son amie Martha. Le jours suivant, Ash meurt dans un accident de voiture. Aux funérailles, Martha apprend par une de ses amies qu'il est possible de rester en contact avec un défunt. Martha ne veut pas en entendre parler, mais son amie Sarah l'inscrit. Martha recevra un email de son défunt petit ami le lendemain matin. Un "nouveau Ash" a été créé en utilisant son profil sur les réseaux sociaux et toutes les données numériques qu'il a enregistré durant sa vie.
Episode 2 : White Bear
Une femme prénommée Victoria Skillane (Lenora Crichlow) se réveille dans une chambre, assise sur une chaise et n'ayant aucun souvenir de sa vie. Elle est entourée d'images d'une petite fille et a visiblement tenté de se suicider par médicaments. Elle aperçoit un symbole étrange sur les télévisions de la maison. Lorsqu'elle sort, elle voit des gens qui sont constamment en train de la filmer avec leurs téléphones portables.
Episode 3 : The Waldo Moment
Jamie Salter (Daniel Rigby) est un comédien raté qui donne sa voix et ses mouvements à un personnage de cartoon – un ours bleu nommé Waldo – qui interview des politiciens et des personnages publics. Les personnes interviewées pensent que les interviews de Waldo sont pour un programme pour enfants alors qu'elles sont diffusées en fin de soirée dans une émission parodique. Waldo the bear est extrêmement populaire auprès du public britannique et un pilote pour sa propre série est commandé. Mais malgré le succès de son personnage, Jamie est dépressif et insatisfait du cours de sa vie.
A regarder en VO. J'ai adoré l'épisode 2 (White Bear).
Articles en rapport: