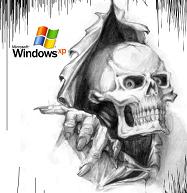 Bon, rien ne va plus sur le PC que j'utilise à Nantes, celui de mon padre en fait… ce qui est encore plus problématique. La cause de la corruption du profil principal de WinXP reste inconnue : je rentre hier soir des Alpes après 11 heures de route, lance le micro, McAfee se met à jour tout comme Windows Update. Deux heures plus tard, la machine se met en veille, chose qui ne lui arrive jamais. Je l'éteins donc et la rallume ce matin, obtenant ce mystérieux message occulte : "Windows est incapable d'ouvrir le profil principal… fichiers manquants ou corrompus… fichier n'a pu être ajouté à la base de registre". Wow, super pratique ce diagnostique : on sait que ça ne marche pas mais aucune raison évoquée. Donc, si jamais cela vous arrive (apparemment ce ne serait pas si rare que cela…), voici quelques petits conseils :
ouvrez une session temporaire avec un autre compte que vous aurez sans doute à créer (Panneau de configuration > comptes utilisateurs) et ajoutez un troisième compte pour sauvegarder vos fichiers
dans les options de l'explorateur, affichez les fichiers cachés/protégés (Explorateur > Outils > Options > Affichage)
Copiez les fichiers C:\Documents and Settings\***compte_foireux*** vers C:\Documents and Settings\***nouveau_compte*** sauf les trois fichiers ntuser.*
Si vous avez de la chance, cela fonctionnera avec le compte vers lequel vous avez copié vos données. Sinon, mieux vaut copier uniquement les fichiers/répertoire qui sont primordiaux pour vous (raccourcis du bureau, profils des applications…).
Personnellement, cela m'a pris environ 6 comptes différents pour retrouver un système stable. J'ai copié le contenu du bureau, les raccourcis et mon profil Firefox – ce qui constitue pour moi l'essentiel. Dès que j'ajoute autre chose, bam ! cela foire de nouveau. J'ai même perdu les drivers de ma carte graphique dans une série de reboots sauvages imposés par cet OS de brin. Merci WinXP de nous rappeler pourquoi on devrait t'abandonner sur une aire d'autoroute en partant en vacances…
Articles en rapport: