Sur mon ordinateur, surnommé The Reaper, j'ai plusieurs disques dur : mon disque principal est un disque formaté en EXT4, entièrement dédié à Linux.
Les deux autres disques durs sont formatés en NTFS car ils datent du temps où j'avais Windows dessus.
Le problème : un disque en lecture seule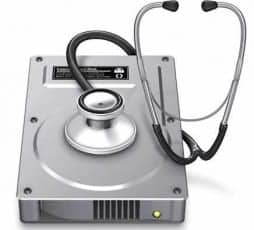 L'autre jour, Cécile cherche à sauvegarder ses fichiers sur son disque externe, qui ne semble pas être détecté.
Je lui propose alors le mien et le branche sur ma machine pour voir s'il reste de la place dessus.
Je le monte et là je m'aperçois qu'il est en mode lecture seule (aka read-only ou r-o) : impossible de copier le moindre fichier dessus alors qu'avant c'était bien possible.
Après de multiples recherches, essais, installations de paquets divers et variés, la situation a un peu changé : mes 2 disques internes se montent maintenant automatiquement au démarrage du système (ce que je ne veux absolument pas).
Lorsque je veux les démonter, j'obtiens le fameux message d'erreur "Error unmounting: umount exited with exit code 1: helper failed with: umount: only root can unmount" qui me dit en substance que seul l'utilisateur root peut monter ou démonter le disque.
Bref, je tombe de Charybde en Scylla. Voici comment régler la situation une bonne fois pour toute, disques internes et externes à la fois.
1. On liste les disques du système avec :
df
2. On démonte les disques en question (sda chez moi) :
sudo umount /dev/sda1
3. On installe le paquet ntfs-config :
sudo apt-get install ntfs-config
4. On lance ntfs-config depuis Applications > Outils Système > Outil de configuration NTFS ou depuis le terminal avec :
gksudo ntfs-config
5. On active l'écriture des disques internes et externes :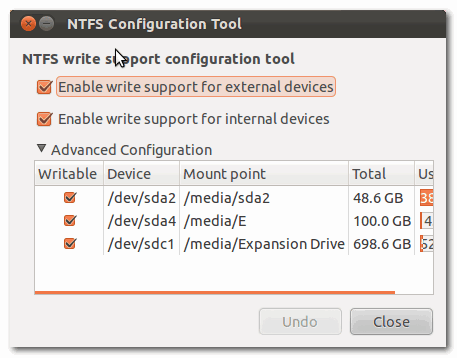 6. On édite le fichier de configuration /etc/fstab :
sudo nano /etc/fstab
et on retire les lignes qui correspondent aux disques durs dont on ne veut pas le montage automatique. Vous pouvez commenter les lignes pour plus de sécurité.
7. Voilà, vous devriez être en mesure d'accéder à vos disques durs normalement.
Conclusion
J'ai beaucoup joué avec les options avancées de ntfs-config mais je ne suis pas sûr d'en maîtriser toutes les subtilités.
J'ai retrouvé un accès complet à mes disques en montage/démontage/lecture/écriture en éditant le fichier /etc/fstab et en supprimant les lignes relatives aux disques incriminés. Et depuis tout va bien.
Vous souhaitez réaliser un nouveau projet WordPress ou WooCommerce, ajouter de nouvelles fonctionnalités, ou améliorer les performances de votre site?
Parlons de votre projet »
Articles en rapport: