Mode d'emploi : construisez un taureau de bronze grandeur nature, allumez un feu en-dessous, et enfin, jetez dans le creux de son ventre la personne dont vous souhaitez obtenir un aveu. Et hop, simple et efficace !
Tel est le fonctionnement du "taureau de Phalaris", ingénieusement inventé dans l'Antiquité.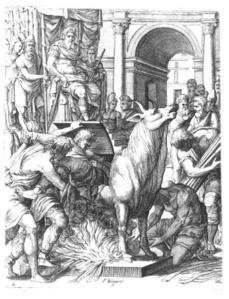 Si le sujet vous intéresse, ou tout simplement, si vous avez un moment devant vous en métro, en voiture, ou ailleurs, vous serez surpris par cette émission sur la torture dans l'antiquité :
Click on the button to load the content from www.franceculture.fr.
PGlmcmFtZSBsb2FkaW5nPSJsYXp5IiBzcmM9Imh0dHBzOi8vd3d3LmZyYW5jZWN1bHR1cmUuZnIvcGxheWVyL2V4cG9ydC1yZWVjb3V0ZXI/Y29udGVudD01YzNjNDEzNy1lNjYwLTExZTMtYWJlZS03ODJiY2I3M2VkNDciIHNjcm9sbGluZz0ibm8iIHdpZHRoPSI0ODEiIGhlaWdodD0iMTM3IiBmcmFtZWJvcmRlcj0iMCI+PC9pZnJhbWU+
Elle est captivante, bien construite et explique de manière pertinente les modalités et utilisations de la torture dans le passé…
"Un sujet dépassé !" pourriez-vous rétorquer. Si seulement ! le sujet est brillant de modernité et, dans un contexte où Amnesty International vient de montrer que la torture est aujourd'hui encore en plein essor, voici une émission qui a de quoi faire se dresser nos cheveux sur nos têtes…
Articles en rapport: