Il y a quelques jours, j'ai reçu un message sur Facebook, envoyé par un de mes contacts. Comme cela vient d'un contact de confiance, je clique sur le lien : rien ne se passe.
Je l'informe alors que son lien ne fonctionne pas : elle me répond qu'elle n'a jamais envoyé ce message. Bizarre !
Le problème : un trojan MSN qui envoie des messages aux contacts Facebook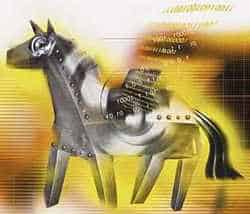 Il s'agit en fait d'un bon petit cheval de troie comme on en voit voyait tous les jours dans nos boites mail (avant Gmail).
Le truc qui change, c'est qu'il se trouve dans un message à lire sur le site de Facebook. Les messages avaient les sujets suivants :
c'est pas toi ?
ta tof fais koi sur ce site ?

Is it u there??
Hey yo.
This video frm our weekend.
I saw you htere. I'm soo proud to see it.
Notez les lettres absentes de certains mots. Ce cheval de troie répondant au doux nom de Trojan.Win32.Agent.dwd se transmet sous forme de liens à vos contacts MSN.
La solution
La solution est simple, il s'agit d'un virus MSN placé dans le dossier temporaire de Windows à éliminer.

Voici la méthode automatisée :
Téléchargez MSNFix. Décompressez l'archive et lancez MSNFix.bat. Appuyer sur R pour rechercher l'infection puis l'éradiquer :

Téléchargez CCleaner, installez-le (en prenant soin de ne pas installer la barre Yahoo!) puis nettoyer vos fichiers temporaires.
Rebootez votre machine et faites un scan antivirus.
Je vous donne également la méthode manuelle si besoin :
Cliquez sur Démarrer > Exécuter > msconfig.
Cliquez sur l'onglet Démarrer. Cherchez la ligne qui indique services.exe et décochez-la.
Rebootez.
Ouvrez le Poste de travail puis activez les fichiers cachés (Outils > Options des dossiers).
Sous Windows XP, allez dans le dossier :

C:\Documents and Settings\VotreNomUtilisateur\Local Settings\Temp\

Sous Windows Vista, allez dans le dossier :

C:\Users\VotreNomUtilisateur\AppData\Local\Temp\

Supprimez le fichier services.exe et videz la corbeille.
Conclusion
Après nos boîtes mail, puis les messageries instantanées, ce sont désormais les réseaux sociaux (pas uniquement Facebook) dont nous faisons partie qui sont maintenant sujets à ces attaques.
Soyez prudents lorsque vous cliquez sur quelque chose, même lorsque cela vient d'un contact de confiance.
Ps : en surfant avec Firefox et NoScript, je n'ai pas été infecté. Avoir un navigateur avec une sécurité renforcée, cela aide aussi !
Vous souhaitez réaliser un nouveau projet WordPress ou WooCommerce, ajouter de nouvelles fonctionnalités, ou améliorer les performances de votre site?
Parlons de votre projet »
Articles en rapport: