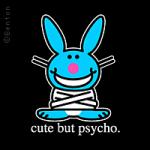 M : Hey buddy, can you go and get the cassette player in Mrs X's room ?
– hein ???
M : Magnéto Serge.
– hein ??? Ah okay… Yes sir !
L'élève sort et revient quelques secondes plus tard, les mains vides.
M : hey ! where's my cassette player ?
– la prof elle veut pas !
M : what ?
– nan, elle veut pas donner !!!
M : Hold on, she doesn't want to give you *my* cassette player ??? Sit down. Everybody, revise !
Matt va voir sa collègue et récupère sans difficulté aucune le magnéto. Retour en classe.
M : Buddy, what's this ?
– C'est votre lecteur de cassette tout pourri m'sieur !!! On n'utilise plus ça maintenant hein, y fait même pas MP3 !!!
M : I know but that's not the point… THIS is a cassette player.
– ah okay sir….
Récréation, je passe devant la salle de ma collègue pour rejoindre la salle des profs.
X : au fait, désolé pour ton élève… il m'a demandé mon magnétoscope alors que j'étais en pleine séquence vidéo…
M : pas grave, il a juste confondu magnétophone et magnétoscope.
X : tu sais ton élève…
M : oui ? (petit pressentiment)
X : quand j'ai refusé de lui donner mon magnétoscope, il m'a appelé "crevarde"…
M : hein ???
X : mes élèves m'ont demandé pourquoi je ne l'avais pas collé. J'ai dit que c'était un des tiens…
M : (…) je m'en occupe, dis-je d'un ton sérieux (avant de m'étrangler de rire dans le couloir).
Petit speech sur la politesse et les règles de bienséance en perspective !
Articles en rapport: