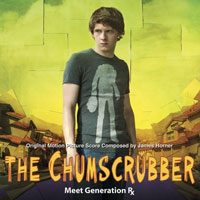 Je viens de regarder le film Chumscrubber, petit film sans prétention sur des adolescents en décalage avec leurs parents, vivant dans un monde un peu à part.
Dean découvre le corps de son meilleur ami Troy pendu dans sa chambre, et choisit de ne le dire à personne pensant que la communauté de voisins, si confortablement installée dans une banlieue fleurie, préfèrerait ne pas le savoir.
L'histoire n'est pas mal et il y a vraiment une chanson qui fait "vivre" le film davantage. Il s'agit de Sleep Song par Rooney. On peut entendre cette chanson à deux reprises : la première fois lorsque l'un des adolescents est retrouvé suicidé et lorsque son ami met à sac sa propre chambre, rongé par la douleur.
Rooney – Sleep Song (Chumscrubber version)

Sometimes I feel
Like I'll never fall asleep
I feel helpless
You can't help me
Fall asleep
I like to dream
But it scares me to think
That at some point
I'll forget when the dream began

I just got out of my bed
Covered in sweat
I was angry
'Cause you kept your hand on my chest
Don't touch me
I'm concentratin' on sleep
On what I'll dream
But I can't keep my eyelids shut

Look at me sleepin'
I'm really sleepin'
Look at me dreamin'
I'm so happy (x2)
C'est plutôt entêtant, voire obsédant comme musique.
Articles en rapport: