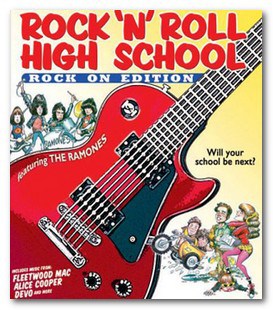 Rock 'n' Roll High School est un film culte des années 70 qui se voulait filme culte dès le départ.
Les efforts de la rockeuse Riff Randell's (P.J. Soles) sont constamment minés par la principale de son lycée, Miss Togar (Mary Woronov) qui hait le rock & roll avec force.
A tel point d'ailleurs que Togar conduit des expériences sur les rats de laboratoire pour déterminer les effets néfastes du rock sur l'esprit des jeunes adolescents innocents.
[after using Ramones music to make a mouse explode in a puff of smoke]
Miss Togar: Note the loss of hearing.
Riff sait qu'elle doit jouer fin pour échapper à la surveillance de Togar et obtenir sa dose de Ramones journalière :
Riff: I'm Riff Randell, rock-and-roller.
La fin du film, assez anarchiste, nous amène presque à aimer les Ramones !
Avant de voir le film, je vous avoue que je n'étais pas trop fan. Après, c'est vrai que cela se laisse écouter.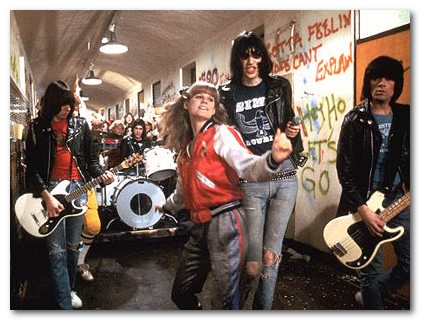 Miss Togar: [holding phone to radio broadcasting live Ramones concert] That, Mrs. Rambeau, is where your daughter is.
Mrs. Rambeau: [over phone] My daughter? Kate? I thought she was in the basement splitting photons.
Certains dialogues valent également le détour :
Kate: Look at your algebra book; it looks like it's never even been opened!
Riff: I only use it on special equations
Articles en rapport: