J'ai reçu un petit carton d'invitation à passer sur Netvibes Ginger il y a quelques jours :

Dear Matt,

Congratulations! You have been upgraded to Netvibes Ginger !

Member of the galactic conspiration of widgets, we are very happy to inform you that you have been selected to be part of the "Ginger" private beta. This new version of Netvibes brings you some really cool new features, and you can them test right now:

Create your own universe
Connect with your friends
Star and share interesting items
Access a catalog of more than 100.000 widgets to customize your page and universe
J'ai donc sauté le pas et après avoir converti mon compte (je n'avais d'ailleurs pas le choix : l'invitation prend précédence sur le Netvibes classique) en entrant un nom d'utilisateur et quelques données personnelles (nom, date de naissance), j'ai pu tester la nouvelle mouture.

Sous Ginger, nous avons désormais deux pages : une page personnelle (notre page Netvibes habituelle) et une page publique (notre "univers"). Cet univers permet de montrer aux autres les flux RSS que nous lisons – en reprenant le principe d'une blogoliste – et avec la possibilité d'ajouter des widgets en tout genre. L'accent est mis sur le côté social de l'application avec l'intégration de Facebook, MySpace, Twitter, Picasa et tout le reste !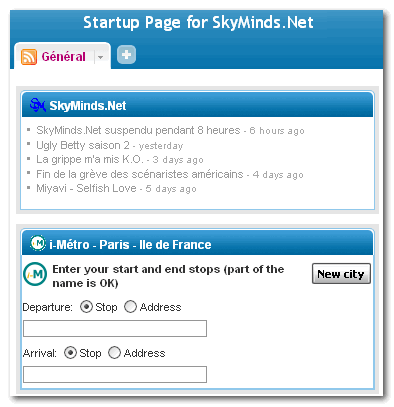 Au niveau de l'interface, il existe désormais une "collapsible top bar" (barre de navigation supérieure escamotable ? cela ne rend pas très bien en français là pour le coup…) qui permet de tout configurer en 3 coups de souris. Pratique. Autre fonctionnalité très intéressante : la date des articles est désormais affichée à côté des titres RSS : du coup, on voit quand les articles ont été postés (pratique pour faire le tri dans les vieux flux qui ne sont plus mis à jour).
Résolument sociale cette nouvelle version de Netvibes. J'aime bien les fait que ces nouveaux changements aient été introduits en douceur, sans tout chambouler. On peut continuer à utiliser Netvibes comme avant si l'on ne désire pas gérer sa page publique.
C'est désormais officiel, Netvibes Ginger ouvre ses portes au grand public aujourd'hui.
Vous souhaitez réaliser un nouveau projet WordPress ou WooCommerce, ajouter de nouvelles fonctionnalités, ou améliorer les performances de votre site?
Articles en rapport: