Mon incontournable événement du mois de juin est le Hellfest.
C'est ma bouffée d'air frais, qui me permet d'anticiper la fin de l'année avec délectation. Et cette année marque les 10 ans de ce festival de metal génial.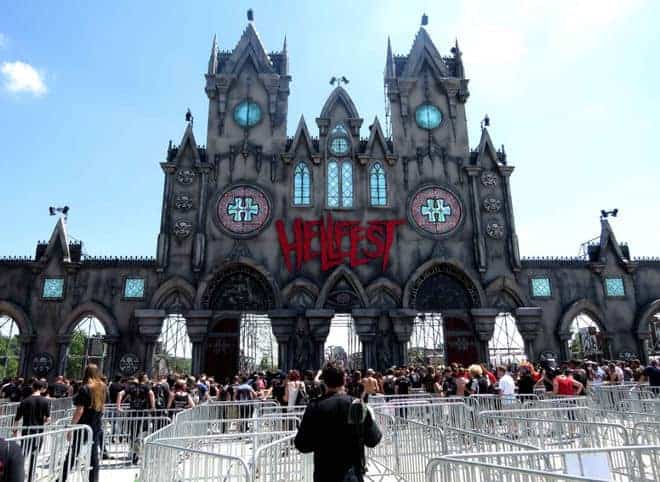 Vendredi
Cette année, accompagné de Cécile et Julia, on décide de partir en camping-car – fini la tente et le matelas à gonfler !
Je pars avec Julia chercher le camping-car chez les parents de Cécile puis nous nous dépotons vers 11h pour rejoindre le festival. Une demi-heure de marche plus tard, nous entrons dans Clisson Rock City.
Au programme ce vendredi, nous avons écouté Vulcain, The Quire Boys, We Are Harlot, Skyforger, Orchid, Billy Idol, Sodom, Motorhead, Lamb of God, Alice Cooper.
J'ai bien aimé réentendre The Quire Boys, qui assuraient la première partie d'Alice Cooper lors des Monsters of Rock de 2003 lors de la tournée anglaise. Nous avons découvert We Are Harlot, qui n'était pas mal.
J'ai été un peu déçu de constater que Skyforger étaient venus sans leur flûte, je trouvais ça cool. Orchid, génial, a oscillé entre Black Sabbath et Ronnie James Dio, cela a été pour moi un des meilleurs concerts de la journée :
Billy Idol n'avait pas un son terrible et je l'ai trouvé fatigué sur plusieurs chansons. Motorhead – Lemmy égal à lui-même.
Alice Cooper, toujours au top, nous a encore offert un superbe spectacle, en véritable showman. A chaque fois que je le vois, je me dis que vraiment chaque détail est réglé au millimètre et que c'est vraiment lui qui mène la danse. Il a joué tous ses grands classiques mais n'a pas eu le temps d'éclater les ballons, qui se sont vite retrouvés dans la foule.
Samedi
Au programme du jour : Ace Frehley, Backyard Babies, Airbourne, Slash, Killing Joke, ZZ Top, Faith No More, Scorpions, Marilyn Manson.
Airbourne est vraiment dans la veine AC/DC. Ils n'ont pas eu de bol car il y a eu une panne de son dès le départ du concert.
Visiblement, seule la fosse pouvait les entendre. Nous avons donc tous croisé nos bras en l'air pour leur signifier que quelque chose clochait. Et lorsque le son est revenu, je pense qu'ils ont entendu notre contentement : cela ressemblait à un tsunami sonore !
Slash a bien joué comme à son habitude, plutôt précis même. Il a visiblement arrêté la drogue et a grossi en conséquence. Le chanteur Myles Kennedy est vraiment bien je trouve :
On a tous adoré le show de Faith No More, qui a été notre très bonne surprise de ce festival : les chansons étaient variées allant du crooner romantique au metal ou au rap.
Franchement, c'était extrêmement agréable et le chanteur a interagi avec le public, allant même jusqu'à taxer le t-shirt d'un gars de la sécurité, pour le mettre et repartir sur scène. Vraiment un très bon concert:
Click on the button to load the content from www.arte.tv.
PHA+PGlmcmFtZSBsb2FkaW5nPSJsYXp5IiBzdHlsZT0idHJhbnNpdGlvbi1kdXJhdGlvbjogMDsgdHJhbnNpdGlvbi1wcm9wZXJ0eTogbm87IG1hcmdpbjogMCBhdXRvOyBwb3NpdGlvbjogcmVsYXRpdmU7IGRpc3BsYXk6IGJsb2NrOyBiYWNrZ3JvdW5kLWNvbG9yOiAjMDAwMDAwOyBib3JkZXI6IDA7IG92ZXJmbG93OiBoaWRkZW47IiBzcmM9Imh0dHA6Ly93d3cuYXJ0ZS50di9hcnRlX3ZwL2luZGV4LnBocD9qc29uX3VybD1odHRwJTNBJTJGJTJGY29uY2VydC5hcnRlLnR2JTJGZnIlMkZwbGF5ZXIlMkY0NTIyNiZhbXA7bGFuZz1mcl9GUiZhbXA7Y29uZmlnPWFydGVfY29uY2VydCZhbXA7ZW1iZWQ9MSZhbXA7cmVuZGVyaW5nX3BsYWNlPWh0dHAlM0ElMkYlMkZjb25jZXJ0LmFydGUudHYlMkZmciUyRmZhaXRoLW5vLW1vcmUtYXUtaGVsbGZlc3QmYW1wO3RjX3N0YXJ0X2Zyb209IiBhbGxvd2Z1bGxzY3JlZW49ImFsbG93ZnVsbHNjcmVlbiIgd2lkdGg9IjY0MCIgaGVpZ2h0PSIzNjAiPjwvaWZyYW1lPjwvcD4=
Scorpions a très lourdement insisté sur "vive la France" à tout bout de champ, allant même jusqu'à sur-imprimer le drapeau français sur l'image des écrans géants. Je veux bien qu'ils soient contents de jouer ici mais ce n'est pas un concert français, c'est un festival de metal qui réunit des gens du monde entier… Et puis, les prises vidéo étaient vraiment d'un autre temps.
Le feu d'artifice des 10 ans
Le point d'orgue de la journée a été le feu d'artifice avec musique et retour sur les dix années du festival. Cela vaut tous les 14 juillet que j'ai vus jusqu'à aujourd'hui :
Hell yeah ! \m/
Et enfin, pour clore la journée Marilyn Manson avec son nouveau look : rasé sur les côtés, grande mèche et coup de feutre sur la joue et sur le front.
Très déjanté, très bon showman, super set surtout qu'il a eu lieu entre 1h et 2 heures du matin, dans une ambiance nocturne aussi inquiétante qu"impressionnante.
Et en antichrist superstar :
Sweet Dreams :
Dimanche
Bon, dimanche, on a eu un peu de mal à récupérer et le programme était un peu moins dans nos cordes. Du coup, on a bu des bières, on a admiré le spectacle des Suicide Girls gogo-danceuses cracheuses de flammes tout en écoutant Exodus, A Day to Remember, Nuclear Assault, et Cavalera Conspiracy.
Une fois encore, un très bon festival, une très bonne ambiance bien éloignée de l'image plutôt négative parfois véhiculée par les médias ou les apriori de ceux qui méconnaissent la culture metal.
See you next year, hellbangers!
Articles en rapport: