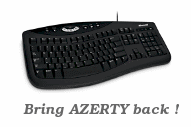 Il y a quelques jours, je me suis dit qu'il était temps de mettre à jour mon Ubuntu : je suis donc passé de Jaunty Jackalope (v9.04) à Karmic Koala (v9.10).
Une ombre au tableau : le clavier qui refuse obstinément de se mettre en AZERTY après la mise à jour.
Le problème : le système démarre avec le clavier QWERTY par défaut
Pas grand-chose à dire : le clavier est en QWERTY et on est obligé de passer par Système > Préférences > Clavier pour le changer en disposition FR. Supprimer le clavier US résout le problème temporairement, c'est-à-dire jusqu'au démarrage suivant…
J'ai écumé la doc et les forums. Beaucoup de gens préconisent d'éditer /etc/X11/xorg.conf mais le problème, c'est que ce fichier n'est plus pris en compte dans Karmic :
The X.Org configuration file (/etc/X11/xorg.conf) still has InputDevice entries for the mouse and keyboard, but they are ignored now because input-hotplug is used.

The keyboard settings now come from /etc/default/console-setup; to change them please use sudo dpkg-reconfigure console-setup. After that, HAL and X need to be restarted (e.g., by rebooting your system).
A ce stade, j'ai fait pas mal de manipulations mais je pense qu'il y en a deux qui ont véritablement résolu le problème. Je vous les donne ici.
Solution 1 : reconfigurer console-setup
Il faut reconfigurer les paramètres de console-setup :
sudo dpkg-reconfigure console-setup
Il suffit de se laisser guider et de tout paramétrer avant de rebooter la machine.
Solution 2 : reconfigurer console-setup
Voici une autre piste : il n'y a qu'un seul utilisateur sur ma machine (moi-même) et la connexion automatique est activée. Il semble qu'il faille :
1. désactiver ce mode dans Système > Administration > Fenêtre de connexion

2. rebooter.
3. une fois devant la fenêtre de connexion, vérifiez bien que le clavier est en agencement FR (j'ai sélectionné US puis FR puis validé).
4. repasser le mode en auto-connexion.
Au démarrage suivant (et ultérieurement), le clavier est bien revenu en AZERTY comme il se doit.
Vous souhaitez réaliser un nouveau projet WordPress ou WooCommerce, ajouter de nouvelles fonctionnalités, ou améliorer les performances de votre site?
Parlons de votre projet »
Articles en rapport: