Putain de série est une série web que j'ai découvert il y a quelques semaines maintenant… sur Facebook. Et oui, comme quoi les réseaux sociaux peuvent aussi nous ouvrir d'autres horizons ! Cette web série, diffusée sur le web uniquement pour le moment, aborde les affres de la création artistique des scénaristes TV.
2008. La saison 1 de la série judiciaire « Des Robes et des Hommes » a été l'évènement de l'année TV ! Dan, son créateur-star, re-signe pour diriger le pool d'écriture de la saison 2. La pression est énorme et des millions de téléspectateurs s'impatientent. Jerry, le producteur, met toutes les chances de leurs côtés. Son but permanent : prouver que les Français savent faire d'aussi bonnes séries que les Américains !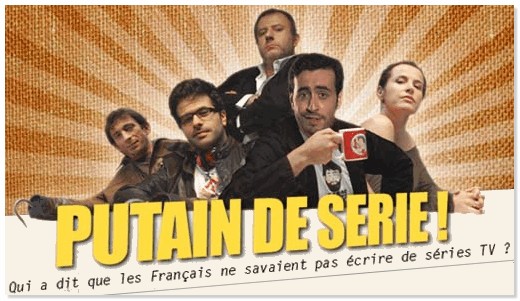 Première réunion d'écriture : Dan rencontre le casting de choc, composé de Sofia – son ex castratrice – , Abraham – l'obsédé sexuel à tendance paranoïaque -, l'inquiétant Milou, et la jeune Clothilde qui s'exprime bizarrement. Dan se demande vraiment dans quelle aventure il s'est engagé. Pour couronner le tout, le producteur impose une équipe de reportage ! Son objectif ? Suivre au jour le jour ce pool de scénaristes hauts en couleur, tous prêts à écrire une « putain de série ! ». Voici le premier épisode :
Click on the button to load the content from www.dailymotion.com.
PGlmcmFtZSB0aXRsZT0iUHV0YWluIGRlIFNlcmllIC0gRXBpc29kZSAxIC0gU2VtYWluZSAxIiBmcmFtZWJvcmRlcj0iMCIgd2lkdGg9Ijc3MCIgaGVpZ2h0PSI0NDIiIHNyYz0iLy93d3cuZGFpbHltb3Rpb24uY29tL2VtYmVkL3ZpZGVvL3g3bG1tNyIgYWxsb3dmdWxsc2NyZWVuIGFsbG93PSJhdXRvcGxheSI+PC9pZnJhbWU+
Le tout ressemble au format mockumentary de The Office mais en français et avec des personnages très attachants. Je vous la recommande. Un épisode est ajouté chaque jour et la deuxième semaine vient à peine de se terminer. Allez regarder la suite sur Putain de série !
Articles en rapport: