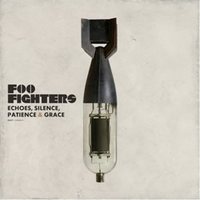 J'écoute depuis quelques jours le dernier album des Foo Fighters, Echoes, Silence, Patience and Grace et je ne peux quasiment plus m'en passer.
Sans être un retour total vers les premiers albums qui étaient vraiment pêchus avec de gros riffs hyper-puissants (Foo Fighters, The Colour and the Shape, There Is Nothing Left to Lose), je trouve que ce nouvel opus est beaucoup plus dynamique que les deux albums précédents qui sont très moyens (One by One et In Your Honor).
Le son est plus épuré, la voix plus travaillée. Cela peut sûrement s'expliquer par le retour au studio de Gil Norton, qui avait travaillé avec le groupe sur le son de The Colour and the Shape, et qui a contribué à la réalisation de ce sixième album.
Voici le premier single de l'album, The Pretender :
Du bon rock, quelques chansons plus douces mais qui montent en intensité progressivement…
Cela s'écoute vraiment très bien. Je vous le recommande !
Tracklist

1. The Pretender – 4:29
2. Let It Die – 4:05
3. Erase/Replace – 4:12
4. Long Road to Ruin – 3:44
5. Come Alive – 5:10
6. Stranger Things Have Happened – 5:20
7. Cheer Up, Boys (Your Make-Up is Running) – 3:40
8. Summer's End – 4:37
9. The Ballad of the Beaconsfield Miners – 2:31
10. Statues – 3:47
11. But, Honestly – 4:35
12. Home – 4:52

Bonus tracks

13. Once and for All (Demo) [iTunes and UK bonus track] – 3:47
14. Seda [iTunes pre-order bonus track]
Articles en rapport: